Customer Highlight: Elizabeth's Post - Pregnancy Story
Written by Kerry Benjamin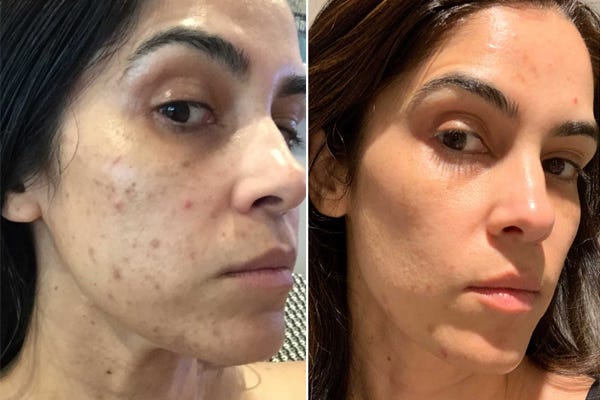 Hair and skin go through many changes during pregnancy due to your changes in hormones. Some women experience hyperpigmentation, acne, dark circles, and facial hair growth. Elizabeth, a verified customer, is a new mom that shared her skincare journey with us! Below are Elizabeth's words on how to restore skin balance as your hormones find their way back to equilibrium.
"The hormonal aftermath of my last pregnancy left me with more than your run of the mill peach fuzz on my face. Even with time, it didn't seem to lessen. Over the next three years, I tried all the things. Waxing, creams, threading and finally, chose to go extreme and went for laser hair removal. Always having sensitive skin, I reacted to everything negatively. I always broke out, my skin hurt and had severe hyperpigmentation.
Feeling deflated and, now, very self-conscious, I decided to stop everything and concentrate solely on healing skincare. While the skincare products I was using were lovely, nothing was treating my issues. After researching every treatment under the sun for the next six months, still unsure of the best place to start, I came across a video of Kerry Benjamin demonstrating Dermaplaning and StackedSkincare. Everything she said in that video made SO MUCH SENSE! As far as I could see, this would solve every issue I was struggling with, from the fuzz to the hyperpigmentation and every breakout in between.
I went to see her in her beautiful spa on April 4, 2018. She walked me through the process, broke down the what's and why's, and showed me all her genius tools. The facial itself was incredible! When she was finished working her magic, I was fully aware that while I had a long way to go, THIS was exactly where I needed to begin.
Shortly after that, I started using the entire Dark Spot Treatment Stack religiously, at home. It takes dedication and trust, but genuinely leaning into this process has changed my skin forever. It has become a ritual that extends past just my skin, but has become part of how I care for myself. I find myself without makeup (slathered in sunscreen) on more days than not and now am asked about my glow. To say this has been worth the investment would be an understatement. I am forever grateful for all the hard work that has gone into StackedSkincare, Kerry's honesty, her no BS ways, and her ultimate dedication.
Thank you, Kerry. I've got nothing but love."