High-Frequency At-Home Devices: How To Use & Why
Written by Kerry Benjamin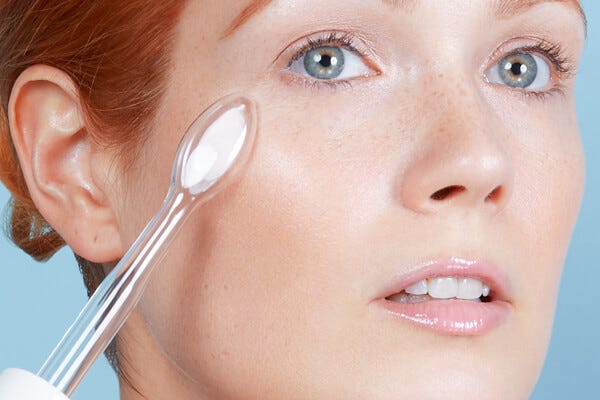 WHAT WE ARE COVERING HERE
---
You love the way your skin looks and feels after a spa treatment, but wouldn't it be wonderful if there was a way to get similar benefits at home in between your favorite professional procedures?
High-frequency home devices are available for purchase so you can re-texturize and rejuvenate your skin in the comfort of your own home. These compact devices are just as effective as the ones professionals use at the spa. And, they're affordable!
A Revolutionary Discovery
Nikola Tesla developed the Tesla high-frequency current during the 1800s.  At first, Tesla's revolutionary scientific breakthrough was used to treat bacterial infections.  In 1892, French biophysicist D'Arsonval introduced the use of high-frequency currents to treat disease of the skin and mucous membranes.
Over a century later, spa professionals in the United States and Europe discovered that the high-frequency current is a safe and highly effective way to treat common skin problems such as acne and wrinkles. Since the 1970s, high-frequency skin treatments have grown exponentially and have become an important component of professional treatments.
How High-Frequency Works
High-frequency is a rejuvenation process based on electrical currents. This treatment utilizes oscillation, or movement, through a wand attached to a compact machine. The electrical currents are set at just the right frequency. Basically, the electric power of the machine is strong enough to balance out your skin without burns (or electrocution for that matter!).
During a high-frequency treatment, low-level electricity is transferred to bulb-like tips through an easy-to-hold wand. The bulb is then placed just at the surface of the skin where the electrical magic takes place on your face.  To help glide the wand over you face easier, use a gauze pad.
Tip: If you want the current to go deeper to kill off the bacteria that causes acne, fold the gauze pad no thicker than ¼ of an inch. This helps to stimulate blood flow and circulation while getting rid of toxins that are wreaking havoc on your skin.
High-frequency balances skin's hydration and collagen levels—both of which can help with acne and wrinkles. As you age, your skin naturally loses moisture and the desirable elastic material we call collagen. This leaves behind dead skin cells that can clog the pores, as well as increases the appearance of lines and wrinkles.
These home kits also give you the opportunity to treat cellulite on various areas of the body. The electrical currents help to smooth out those fatty dimples while giving the skin a supple appearance. You may also use the machine to cover up those sleepless nights by decreasing the look of under-eye circles.
Why High-Frequency?
With all the skin treatments available, you may wonder whether high-frequency stands up to all the hype. Not only does high-frequency provide real benefits, but it is also less invasive—you won't experience pain and burns associated with other procedures! These revolutionary home devices are most beneficial for eliminating toxins and acne-causing bacteria, but also have many other benefits including: shrinking enlarged pores, increasing collagen and elastin production, reducing the appearance of fine lines, wrinkles and cellulite, and fading dark eye circles.
High-frequency treatments also allow you to look good and feel good, thanks to the detoxifying powers of the electrical currents. The process gives you the tools you need to remove toxins and harmful bacteria for overall well-being. Best of all, you can use high-frequency any time of the year to remove dead skin cells and toxins.
Concerns
When used correctly, high-frequency devices are safe for home use. However, you shouldn't use these types of procedures if you're pregnant or if you have a history of heart disease. For the best results, make sure all bulbs are intact before use. Also, like with any electrical appliances, never use near water or metal jewelry.
Certain skin conditions can make high-frequency at-home devices a little tricky to use. If you have rosacea, eczema or psoriasis, it is better to leave this treatment in the hands of your esthetician. A spa professional is more adept at working around skin conditions that may worsen with high-frequency treatments.