How To Safely Exfoliate Your Skin
Written by Kerry Benjamin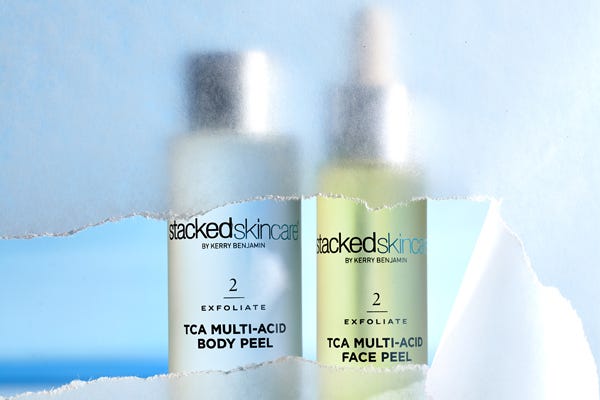 We all love the feeling of sloughing off dead skin cells to reveal fresh, glowing skin— but how much is too much and what is the best way to do it? Here's how to exfoliate the right way.
SIGNS OF OVER-EXFOLIATION
Over-exfoliation is often the result of using abrasive products such as scrubs, which can strip your skin of its protective barrier and leave it dry and irritated. Over-exfoliating disrupts your acid mantle—an essential layer of lipids that sits on the surface of your skin and protects it from outside irritants. When your skin becomes unbalanced, you may start to notice red patches, flaking, breakouts or dryness. On the flip side, your skin can begin overcompensating by producing excess oil. In extreme cases, your skin can develop a waxy sheen or begin to look like plastic. This happens when you've removed so much of your skin's surface that you've exposed hyper-smooth, immature skin that reflects a lot of light
EXFOLIATE WITH PEELS, NOT SCRUBS
When it's time to exfoliate, think twice before reaching for scrubs, which often contain particles with rough edges. These particles can create micro-tears in the surface of your skin that leave it vulnerable to acne-causing bacteria, environmental pollutants, and UV damage. Look for peels instead; peels are a gentler and more effective way to evenly remove dead skin. Our self-neutralizing TCA MULTI-ACID FACE PEEL contains a blend of five natural and clean exfoliating acids that speed up cell turnover and hydrate the skin without causing irritation.
Another excellent addition to your exfoliation routine is a DERMAPLANING TOOL. This physical exfoliating tool safely removes dead skin and peach fuzz, softens skin, and helps the active ingredients in your peels penetrate more effectively.
HOW OFTEN TO EXFOLIATE
Everyone's skin is unique, but the general rule of thumb is to exfoliate two times per week. Certain products are gentler than others, so look to the instructions for guidance. If you decide to introduce a new product with exfoliating ingredients like AHAs, BHAs or retinol, exfoliating two times a week may be too much for your skin. Cut back your peel and dermaplaning routine to once a week when you first introduce products with exfoliating ingredients. Once your skin has adjusted, you can go back to twice weekly exfoliation.  
HOW TO EXFOLIATE SAFELY
The key to safe exfoliation is to start small—exfoliate once a week and build up gradually to give your skin time to adjust. Once your skin has adjusted, follow this step-by-step routine for bright, smooth skin.
STEP 1
Once a week, use our DERMAPLANING TOOL to resurface the skin. Starting at the cheekbone near the hairline, slide the tool down in short, gentle strokes until you have covered the entire cheek and jaw. Do not go over any area more than once. Dermaplaning allows your peel to penetrate deeper into the skin, giving you more effective results. For more detailed instructions, watch our founder Kerry Benjamin explain dermaplaning here.
STEP 2
Twice weekly, apply a thin layer of our TCA MULTI-ACID FACE PEEL on your face and neck— once right after dermaplaning and once on its own. Our peel is self-neutralizing, which means you don't have to wash it off!  You can give your body some exfoliating love with our TCA MULTI-ACID BODY PEEL, a formula designed specifically for the thicker skin below your neckline.
STEP 3
If your skin feels hot while the peel is active, roll our ICE ROLLER over the area. Just leave your roller in the freezer and apply anytime to soothe skin.
WHAT TO DO IF YOU OVER-EXFOLIATE
If you've over-exfoliated, give your skin a break! Skip all exfoliating steps in your routine for at least 1-2 weeks to help your skin recover, including any serums with exfoliating acids. Wash your face with a mild, non-stripping cleanser like our PREBIOTIC GEL CLEANSER which contains a prebiotic complex that feeds the skin's good bacteria that keep your skin healthy.  Follow with our HA HYDRATING SERUM and use a gentle moisturizer to restore your natural moisture barrier and prevent any further irritation.