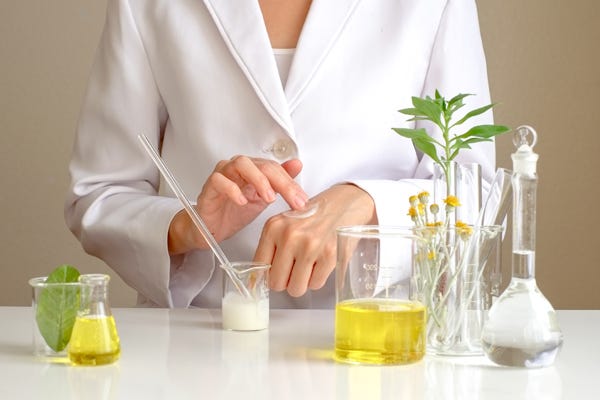 The skincare aisle can be a confusing place, thanks in no small part to relentless social media hype and claims like "natural," "organic," and "pure" that go unregulated by the FDA. How are we supposed to drown out the noise and zero in on skincare products that really work?
A few years ago, the industry directed consumers towards "natural" products as the standard of safety in a sea of questionable ingredients. But soon, we realized that "natural" didn't really mean natural at all for a lot of the products on the market. Plus, not all natural ingredients are actually safe for your skin.
When it comes right down to it, almost all of us want the same thing: effective skincare made with ingredients that are safe for our bodies and the planet.
That's why we think it's important to show you exactly where we stand when it comes to ingredients. Our skincare products contain both nature-based and lab-created ingredients because both can do wonders for your skin. But we also avoid all known toxins, questionable chemicals, and ingredients that are problematic for people with sensitive skin. Here's a look at what we mean when we say we are clean beauty product company.
CLINICALLY TESTED & DEVELOPED BY A LICENSED AESTHETICIAN
We believe in skincare that improves your skin health and delivers real, visible results. That is why our skincare products are clinically tested for safety and efficacy. Plus, everything we make is developed by our founder, Kerry, a licensed aesthetician who is an expert in skin health and a range of skin conditions from eczema to acne.
ALWAYS CRUELTY-FREE & VEGAN
Animal testing has no place in our company or in our world. Our cruelty-free products use ingredients that have been proven safe and we test everything on ourselves when we're in development. We also avoid the use of any animal-based ingredients. We want to ensure that no animals were harmed in the production of anything that goes into our products; the best way to do that is to use vegan ingredients in our skincare products and keep animal products out of our formulas altogether.
NO SYNTHETIC FRAGRANCE OR PHTHALATES
All of our skincare products are fragrance-free. We avoid fragrance in general but especially synthetic fragrance because it allergens that can cause reactions. Synthetic fragrance can also contain hidden chemicals like phthalates, which have been linked to allergies and endocrine disruption.
NO PARABENS, SULFATES, OR FORMALDEHYDES
As part of our pledge to creating clean skincare, our products are free from parabens, sulfates, and formaldehyde-releasers. Sulfates are cleansing agents that are too harsh for your skin's lipid barrier and formaldehyde is a known carcinogen.
All StackedSkincare Beauty Products Are Formulated Without:
1,4 Dioxane
Acrylates
Aluminum Salts
Animal Oils/Musks/Fats
Benzophenone + Related Compounds
BHA/BHT
Butoxyethanol
Carbon Black
Coal Tar
EDTA
Ethanolamines DEA/TEA/MEA/ETA
Formaldehyde-releasing agents
Formaldehyde
Hydroquinone
Insoluble Plastic Microbeads 
Lead/Lead Acetate
Mercury + Mercury Compounds (Thimerisol)
Methyl Cellosolve + Methoxyethanol
Methylchloroisothiazolinone & Methylisothiazolinone
Nanoparticles – as defined by EU
Octinoxate
Oxybenzone
Parabens
PEGS
Petrolatum & Parrafin
Phenoxyethanol
Phthalates
Polyacrylamide & Acrylamide
Resorcinol
Retinyl Palmitate
Silicones – D4, D5, and D6
Styrene
Sulfates – SLS + SLES
Talc
Toluene
Triclocarban
Triclosan
Undisclosed Synthetic Fragrances