Should I Get Laser Therapy?
Written by Kerry Benjamin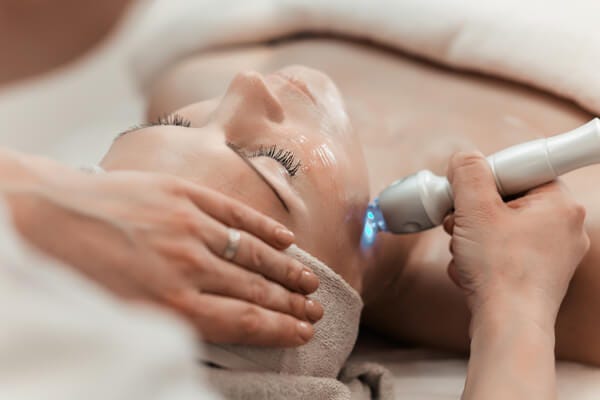 Who doesn't have a few discolored spots and some wrinkles they'd like to erase? If you struggle with hyperpigmentation, acne scarring, dark spots and fine lines (and who doesn't!), you may have heard that laser resurfacing can help. While laser treatments have been shown to help even out skin tone and soften wrinkles, I don't recommend this treatment for everyone. Read on to learn more about laser resurfacing therapy and why you should avoid it if you have a lot of pigment in your skin.
What laser skin treatment is
Laser therapy uses either a carbon dioxide or erbium laser to remove layers of damaged skin caused by sun exposure, acne scarring, or signs of aging. Doctors use a numbing cream during the procedure to minimize pain. After treatment, skin may be painful and swollen. The treated area needs to be kept moist with prescribed ointment to prevent scabbing and encourage healing.
What it does
Lasers vaporize damaged skin cells with minimal burning of the surrounding tissue. This procedure radically resurfaces skin—removing the top layer of tissue to reveal the lighter, softer, younger looking skin underneath. It stimulates cell turnover and gives skin a plumper, firmer, and brighter look. It can radically reduce the appearance of acne scarring and post inflammatory hyperpigmentation. While the treated area will heal in a few weeks, skin may remain red for up to a few months after treatment.
Why it's not good for dark skin
Risk factors for treating darker skin with lasers are very high. The issue is that heat damage to the surrounding tissues can actually trigger melanin production in dark skin. Unless treated properly using the right kind of laser at the right setting, laser therapy can actually cause further hyperpigmentation instead of reducing it in darker skinned patients. It may also cause hypopigmentation or loss of pigment, leading to unsightly light areas on the skin.
If you have darker skin and are interested in treatments to lighten hyperpigmentation, scarring and wrinkles, I recommend looking into microdermabrasion, chemical peels, microneedling, and dermaplaning to provide similar results over time.