The Best Makeup For Skin
Written by Kerry Benjamin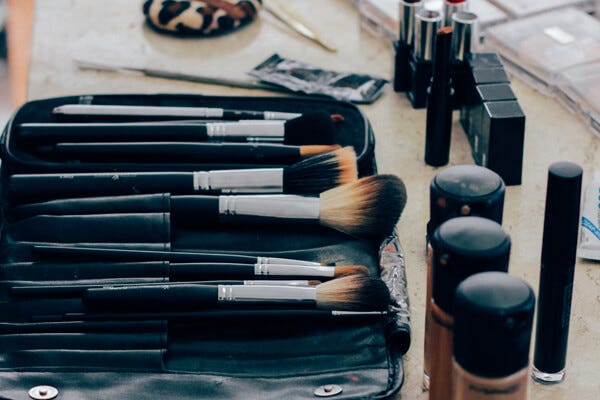 So many of us focus on perfecting our skin and fighting the invaders that attempt to negate our efforts – free radicals, pollution, even our always-welcome sun (who we can thank for the vitamin D, but not for hyperpigmentation!).
But, with the investment we make in cleansers, moisturizers, serum and oils, we should also think about what we apply on our faces afterward – our makeup. Even makeup can contribute to dryness, oiliness, blemishes or even aging, so it's a good bet to try some products that help you achieve the beautiful colored, shimmery, dramatic or rosy look you want – while also offering skincare benefits.
In general, what you want to do is avoid products that may potentially irritate your skin or clog pores and find products that do double-duty – adding some color or covering imperfections while protecting, moisturizing, healing (or all three)!
Here are our top recommendations:
Foundation & Cover-Up
Mineral makeup isn't just hype – it's the best form of foundation, cover-up and powder because it can infuse pure, beneficial ingredients into your pores without clogging them.
La Bella Donna's "Minerals On-The-Go" blurs out imperfections and adds an incandescent glow to your skin while protecting you with natural SPF throughout the day. The super-convenient dial on the tube enables you to control how much powder comes out so you can go for sheer, medium or heavier coverage. The minerals only comprise four ingredients -- micronized titanium dioxide, bismuth oxychloride, zinc oxide, iron oxides – that heal, soothe and calm. It even works well for problematic skin with acne, rosacea, melasma, eczema and psoriasis, as well as allergen prone and sensitive.
If you prefer liquid foundation, Vapour foundations are enhancing as much as they are advantageous. The formula is made with 100% natural ingredients that are 70% certified organic, and 30% is made of natural mineral pigments and vitamins. What does this mean for you? No controversial ingredients that may cause adverse reactions to skin. The foundations also have lots of added boosts: organic pumpkin and papaya complex conditions the skin, camellia brightens, frankincense offers anti-inflammatory benefits and tulsi plays the leading role of the free-radical fighting antioxidant. Almost sounds like a facial serum, doesn't it?
Facial Multitaskers with SPF
Rather than looking for a simple SPF cream, why not save some time by investing in a product that does it all?
Try Suntegrity's "5 In 1" Natural Moisturizing Face Sunscreen, which comes in two flattering light or medium shades. It's a primer, moisturizer and SPF that simultaneously treats, hydrates, protects, primes and covers the skin. This cream is packed with antioxidants on top of a host of healthy ingredients to help nourish skin, such as aloe vera, jojoba, sunflower, pomegranate, cucumber and green tea.
Jane Iredale's Glow Time™ Full Coverage Mineral BB Cream is a foundation, concealer and sunscreen that touts active skincare benefits. It covers blemishes, minimizes pores, disguises wrinkles and smoothes and brightens skin. Their litany of excellent ingredients include grapefruit extract, which promotes luminosity and reduces the appearance of pores and wrinkles; apple extract, a skin-smoothing antioxidant that exfoliates, refines the skin; sunflower seed oil, which contains antioxidant vitamin E; and aloe leaf juice to moisturize and soothe the skin.
Eyes & Cheeks
For added shimmer and color, 100% Pure is one of the best. They use natural fruit pigments for coloring so you can add dimension and pretty hues to your face without the chemicals. Alima Pure has a line of eye shadows and blushes that are 100% mineral based. We all know by now that fruit and minerals are good for us, and now you can have them in your cosmetics!
Lips
You want to find some good coloring as well as moisturizing factors for your pout. ILIA is 85% organic and contains incredibly nourishing ingredients such as castor seed oil, jojoba oil, sesame oil, cocoa seed better, grape seed extract and orange fruit oil. It does the job like a reliable lip balm but gives you the vivid, high-fashion colors that will make your pout pop!