Timing Your Routine
Written by Kerry Benjamin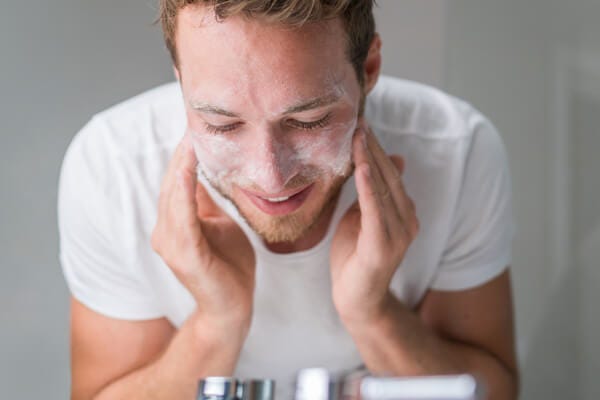 How to Order Your Skincare Routine
If you've never ventured beyond the classic cleanse-tone-moisturize skincare system, it can be confusing to figure out how to order your routine once you start using serums and treatments. Order of application is important because each product has a unique molecular size (weight). The larger a product's molecular structure, the less it will absorb into your skin. Smaller molecules penetrate more easily, and thus should be used before heavier ones. Applying products in the incorrect order will impact their efficacy. Here's the right order and frequency for the best results.
Cleansers: Oils First Then Gels
Double cleansing clears skin of impurities and prepares it for the rest of your routine. Start with an oil-based or creamy cleanser to emulsify makeup, then follow with a gel cleanser to remove dirt and residue before applying the rest of your products. Don't rely solely on an oil-based cleanser; residual oil on the skin can prevent the absorption of other products. If you're cleansing in the morning and don't feel like you need two rinses, just use the gel cleanser.
Exfoliators: Dermplane Then Peel
Once skin is clear of impurities, your exfoliator can more effectively slough away dead skin cells that build up on the epidermis. If you want to combine physical exfoliation and chemical exfoliation, dermaplane first to remove fine hair and surface cells, then follow with a peel like our TCA Multi-Acid Face Peel to get an even deeper exfoliation treatment.
Serums: Thinnest to Thickest
Because they are lightweight and highly concentrated, serums should be applied before moisturizer. Apply your serum while skin is still slightly damp so it can help seal in moisture and deliver active ingredients into the skin. You should always apply serums from thinnest to thickest. If you are using an oil-based serum, wait to apply that after your moisturizer. Oil-based serums have a higher molecular weight, which will prevent lighter products from absorbing.
Moisturizer: Creams Before Oils
Moisturizers are usually an emulsion of both oil and water; because they often contain oil, you want to apply them after any water-based products, but before facial oils. If you have oily or combination skin, you can probably skip face cream and go right to a lightweight oil like our Shiunko Blush Face Oil. It is crucial to apply facial oils near the end of your routine as oils create a barrier that will prevent other products from absorbing. Wait a few minutes after applying oil before you apply SPF.
Physical SPF is Always Last
Defending against harmful UV rays is critical! We recommend SPFs with mineral protectants like titanium dioxide and zinc oxide. Because these minerals sit on top of the skin, SPF should be put on last, or it will prevent your other products from working to their full potential
Not sure how often to use all of your products? Check out this handy chart:
|   | Cleanser | SPF* | Serums | Microneedling | Face Peels | Body Peels | Dermaplaning | High Frequency |
| --- | --- | --- | --- | --- | --- | --- | --- | --- |
| 2x/Day | x |   | x |   |   |   |   |   |
| 1x/Day |   | x |   |   |   |   |   |   |
| 3-5x/Week |   |   |   | x |   |   |   |   |
| 1-2x/Week |   |   |   |   | x | x |   |   |
| Every Other Week |   |   |   |   |   |   | x |   |
| As Needed |   | x |   |   |   |   |   | x |
*Don't forget to reapply SPF every 2-3 hours when you're in the sun!