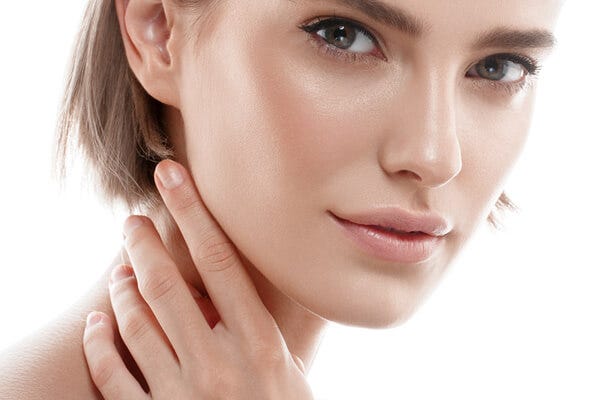 We spend most of our adult lives carefully tending the skin on our faces, but rarely pay attention to what's going on below the chin. The skin on your neck is actually thinner and more delicate than the skin on your face. Because it doesn't benefit from the same layers of fat and underlying muscle tissue that give structure to your face, your neck can begin to sag and crease far before you ever show serious signs of aging on your complexion.
There are loads of serums and treatments on the market that claim to be specialized for and promote anti-aging for the neck. Here's the truth—whatever is good for your face is good for your neck. There's no need to double up on products in order to take care of your neck. Just reach for a few skincare standbys to keep your décolletage youthful and radiant. Read our neck skin care tips below.
Exfoliate
Believe it or not, you really should be exfoliating your neck. Exfoliation not only removes dead skin cells, but also stimulates cell turnover and the production of collagen—two factors vital to maintaining a youthful-looking neckline. The skin on your neck can be especially sensitive to pulling and tugging, so use a gentle peel like our TCA Multi-Acid Face Peel instead of a physical exfoliant like a scrub. The peel will boost the efficacy of your moisturizer or serums and improve the appearance of any hyperpigmentation.
Treat
The skin on your neck is especially prone to early signs of aging such as dark spots and wrinkles. Extend the same anti-aging treatments you use on your face down onto your neck. Look for products that contain peptides or epidermal growth factors like our EGF Activating Serum, which will help plump and firm the skin. Don't forget the back of your neck—while the skin here is a little tougher, it is especially prone to damaging sun exposure and deserves some nourishment.
Protect
It should go without saying, but you should always apply SPF to your neck! The skin on your neck is often the first place to show signs of sun damage. In fact, the "rosacea" you see on your neck might not be rosacea at all, but just skin reddened and discolored by UV rays. Apply whatever SPF you use on your face all the way down to your décolleté to ensure proper protection.
Final Note
Consistency is key. Slathering on some lotion every now and then probably isn't going to do much to keep your neck youthful. But if you give your neck the same pampering treatment you give your face every morning and night, you're bound to see some preventative and restorative results.