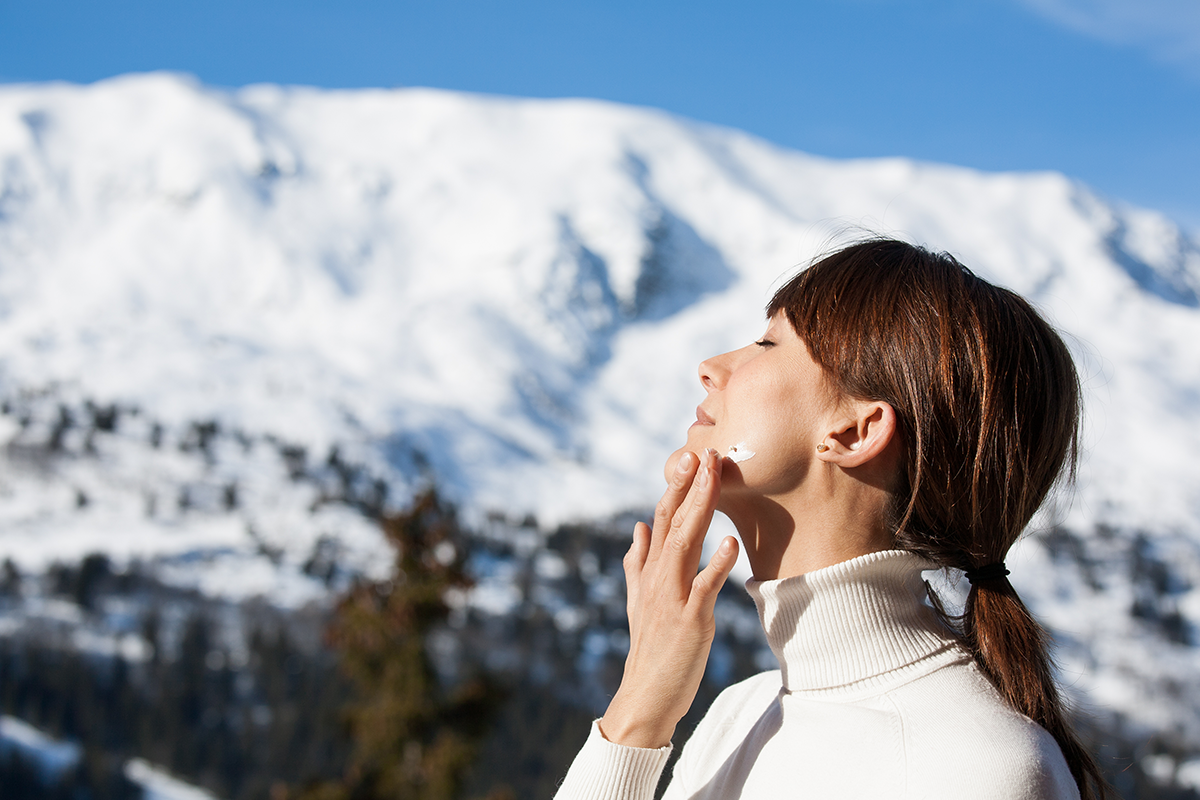 Heading to the mountains this winter? Be prepared: a snowy wonderland can be treacherous for your skin. Whether you're planning to hit the slopes or sip cider in the cabin, here are some tips to help you winter-proof your routine.
PREVENT ROUGH & PATCHY SKIN
Rough skin is among the most common issues caused by harsh winter weather. As the outdoor temperature and humidity drops, your skin has to work much harder to maintain adequate hydration. Plus, your skin is constantly transitioning between dry indoor heating and brisk outdoor air, which can worsen irritation and dryness. Use a non-stripping cleanser like our PREBIOTIC GEL CLEANSER which uses a prebiotic complex to prevent skin reactivity and copper gluconate, a repair-boosting mineral, to soothe and repair damaged skin. To treat flaky patches, use our DERMAPLANING EXFOLIATION TOOL once a week and follow up with a gentle exfoliator like our TCA MULTI-ACID FACE PEEL to remove dead skin build-up. This two-step deep exfoliation treatment will allow your products to penetrate more effectively, eliminating the dryness and tight feeling associated with parched winter skin. Follow up with serums and your favorite oil-based moisturizer to create a protective barrier on the skin.
SOOTHE WINTER BURNS & RASHES
While we often associate burns with a hot day at the beach, some of the worst burns can happen during the winter. If you're traveling to a climate with high winds or planning to whoosh down the slopes, you'll be prone to windburn. Having a hydrated base will help prevent irritation before it begins. Lock in moisture daily by using a hydrating serum like our HA HYDRATING SERUM. Hyaluronic acid is one of the world's lightest and most effective hydrators and helps draw water into the skin's surface layers. Add an additional layer of protection with a nourishing oil like our SHIUNKO BLUSH FACIAL OIL, which helps soothe irritation with fermented shiunko oil and Japanese indigo oil. Our oil is also infused with fermented green tea oil, which is loaded with antioxidants that will help protect your skin against the extra strong UV rays at high altitudes. Follow up by applying sunscreen daily. Reflected sunlight off the snow can cause painful sunburns, and UV rays can contribute to premature skin aging even during cloudy winter months.
REPLENISH DRY HANDS
The skin on the backs of the hands is thin and susceptible to dryness and cracking when temps plummet. One or two times a week, use a peel like our TCA LACTIC & GLYCOLIC ACID BODY PEEL on your hands to gently exfoliate away dead, dry skin cell build-up, then follow up with hand cream. Using a peel will help your skin absorb moisturizer more effectively so that it can really quench dehydration and dryness. Don't forget to wear gloves when you leave the house for an added layer of protection!
SOFTEN CHAPPED LIPS
Your lips don't have oil glands, which means little to no protection against the elements. While it may seem like the quickest solution, try not to lick your lips when they start feeling tender. Saliva evaporates quickly and promotes dryness. Instead, prevent chapping with our HYDRATING LIP PEEL, a softening lip serum that dissolves dry skin and adds a veil of moisture. Apply lip balm regularly, especially after eating or drinking. Look for a thick balm with occlusive ingredients like beeswax or petrolatum to seal in moisture.