5 Anti - Aging Products That Work Better Than Makeup
Written by Kerry Benjamin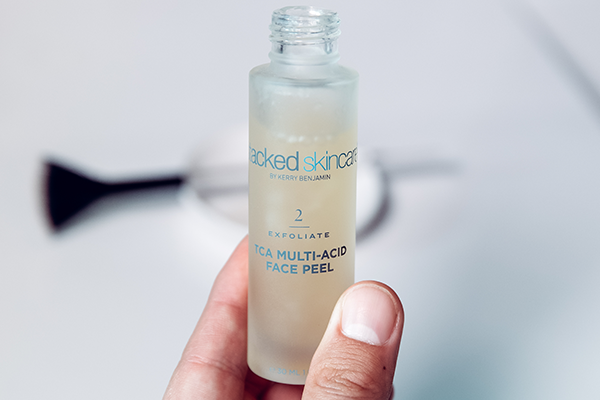 Foundation, concealer and blush can temporarily give you the appearance of healthy, younger-looking skin. But what if you could wake up with a youthful glow without ever having to dip into your makeup bag? Consider putting your skincare routine first—after all, your makeup is only as good as the skin underneath it. Here are the top anti-aging skincare products that can help you kiss foundation goodbye and embrace a natural, bare-faced glow.
BRIGHTEN UP WITH PEELS
Dull skin and dark spots are a dead give away of age. That's because our skin renewal decreases significantly with every year, causing the skin to look dull and dry. Plus, around age 30, sun damage that we got earlier in life starts to show itself in the form of hyperpigmentation.
A weekly chemical peel can help. The exfoliating acids inside peels like our TCA MULTI-ACID FACE PEEL gently remove the top layer of dead skin cells, revealing newer skin underneath. While peels provide instant brightening benefits, they also help gradually fade dark spots overtime, reversing all those years that we baked in the sun.
SMOOTH IT OUT WITH DERMAPLANING
Because skin renewal slows as we age, we're more likely to get dry skin build-up. This build-up not only makes skin look dull, but can give it a rough look and feel. To make things worse, when dead cells sit on the surface of our skin, it makes it harder for hydrating products to penetrate.
Instead of covering up rough skin with foundation, consider adding a dermaplaning tool to your skincare arsenal. Dermaplaning uses a blade to physically slough away that top layer of dead, dry skin cells. It also removes surface peach fuzz that can make skin look drier and duller than it really is. Dermaplaning is a favorite of makeup artists because it instantly reveals baby-soft skin—with excess peach fuzz gone, if you do want to use foundation, it will glide on smoothly without clinging to hair or flaky skin.
FADE LINES WITH RETINOL
Foundation and concealer can give you brighter-looking skin, but they can't erase wrinkles. You need retinol for that. Retinol is a form of vitamin A that dermatologists recommend to treat both fine lines and deep wrinkles. It targets the skin on a cellular level by speeding its natural turnover rate. This increase in cellular renewal helps stimulate collagen within the skin cells, which helps visibly fade wrinkles over time. Because retinol can cause redness and peeling, start slowly by using it only once a week and gradually increasing your usage to 2-3x weekly.
PLUMP IT UP WITH PEPTIDE
Sagging skin and loss of firmness are two of the most common signs of aging, but can also bethe most difficult to mask with makeup. The best topical solution? Peptides! These naturally occurring short-chain amino acids stimulate the cells that support skin structure and elasticity. When the collagen in our skin breaks down, peptides act as little messengers to tell the skin tomake more collagen.
Our FIRMING EYE COMPLEX features Adaptive Complex 25™ (AC-25™), our proprietary anti-aging complex powered by an advanced delivery system that transports collagen-building peptides deep into the skin. Our potent serum blends peptides with natural botanicals like chrysin to visibly brighten dark circles and reduce under-eye wrinkles so you can ditch the concealer for a naturally bright-eyed look.
To find out more about the anti-aging power of peptides, check out this blog.
TREAT YOUR TEXTURE WITH MICRONEEDLING
Combining your serums with a MICRONEEDLING TOOL can take your natural glow to the next level. Microneedling stimulates the skin's regeneration response, refining skin texture and promoting the appearance of plumper, brighter, smoother skin. Microneedling also gently micro-exfoliates the skin, helping the active ingredients in your serums penetrate the skin more effectively. Microneedling is gentle enough to use every day and can also help reduce the look of fine lines and dark spots over time.