5 Tips For Battling A Skin Hangover
Written by Kerry Benjamin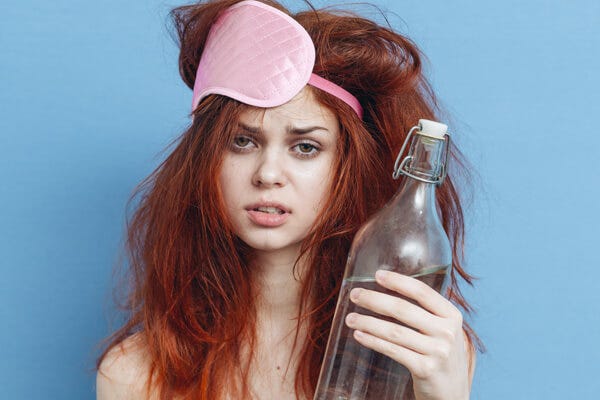 Whether you're suffering from an actual hangover or simply zapped from late nights at work, the dry, red, breakout-ridden complexion that comes with bodily stress is something we refer to as a skin hangover. Because skin is the largest (and most visible) organ, any stress you put on the body is bound to show up on the outside. After a stressful week at work or a busy travel period, try these five skin rejuvenation tips to bring skin back to a healthy equilibrium.
RE-BALANCE BACTERIA
When you're stressed, your skin's natural bacterial balance can suddenly get out of whack. Bad bacteria can cause breakouts, so it's important to help rebalance it as soon as possible. A peel like our TCA Multi-Acid Face Peel can help. Gentle acids like lactic and glycolic help deter acne-causing bacteria and rebalance skin's optimal pH. Good bacteria thrive when skin's pH is on point, preventing dryness, breakouts, and irritation. Plus, the peel helps dissolve dead cells, leaving the skin brighter and healthier.
FLUSH IT OUT
As with any hangover, skin needs a big dose of hydration when stressed and rundown. While drinking extra water can help rebalance your body, it is also important to flush skin externally. To saturate skin with moisture, steam it! This is a technique used in facials to help soften the skin, melt sebum, and infuse the complexion with moisture. A professional-grade steamer is ideal, but this effect can also be accomplished by gently simmering some water on the stove and then transferring it to a heat-safe bowl. Drape a dishtowel over your head and place your face over the steaming bowl for a minute or two. Be careful not to get too close—the steam should feel warm but not super-hot. After steaming, immediately apply HA Hydrating Serum to prevent trans-epidermal water loss and seal in moisture.
DOUBLE YOUR SERUM
Your serums are precious, but if there's any time to do double duty, it's during a skin hangover. We especially recommend a hydrating serum with growth factors like our EGF Activating Serum. The growth factors will help your skin repair any stress-related damage. Simply apply a normal dose, let it absorb completely (1-2 minutes), and then apply another light layer. In some cases, more really is more.
GET THE BLOOD FLOWING
Although a trip to the gym may be the least appealing option when you're exhausted, it is important to boost circulation. Try a gentle yoga class or brisk walk to get started. Another easy way to promote blood flow? A gentle facial massage. Apply a thick layer of serum before you massage the face to avoid extra friction that can cause redness and broken capillaries.
GREEN YOUR DIET
Whether alcohol-related or not, when experiencing a skin hangover, chances are that things aren't quite their best internally. Until skin gets back to its natural state, cut out inflammatory foods like dairy, alcohol, and gluten. These foods can cause breakouts, redness, and inflammation, so it's best to leave them out until you're feeling great again. Instead, chow down on lots of greens, raw fruits, and veggies to help skin recover. Add anti-inflammatory spices like turmeric, ginger, and cinnamon into your daily routine to help your skin get its glow back.
These tips will help even the most rundown skin return to its natural, healthy state. Remember, the best way to treat a skin hangover is through prevention: hydration, self-care, and a healthy diet are essential to maintaining high energy levels and glowing skin.