Advanced Skincare At Home
Written by Kerry Benjamin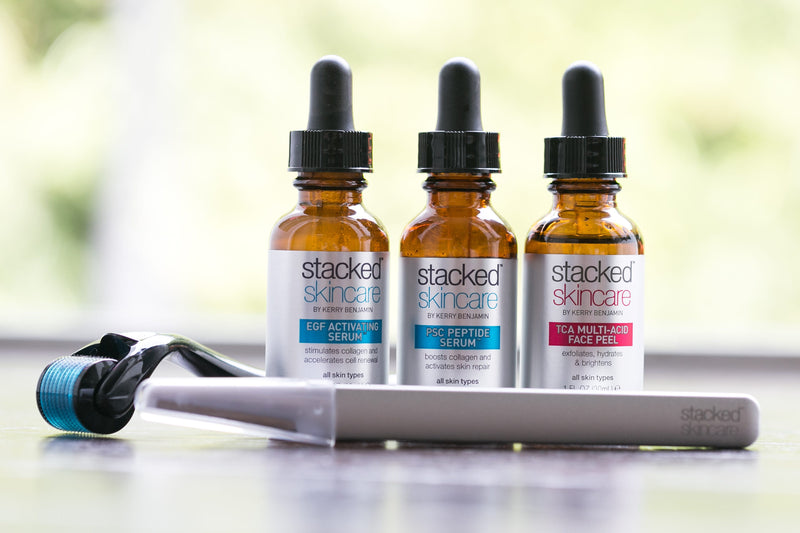 For years, it's been the same old skincare story: wash, tone, treat, moisturize. As basics go, this model isn't bad. But it isn't everything you could be doing for your skin.
As skincare technology becomes more advanced and dermatologists understand more and more how the skin functions, at-home treatments have evolved. While at-home dermatology treatments don't offer the same potency as those you'd receive in a doctor's office, they are an excellent way to boost your regimen safely and effectively. Read on for a few of the at-home advances that I recommend to my clients.
Peel It Yourself
Skin peels used to mean going to a pro's office; one misstep and you could seriously burn your skin! But now, we've discovered gentler ways of restoring and exfoliating your skin—so gentle that you can do them yourself at home. At-home peels are a vital step in restoring your skin; they plump, soften lines, and brighten your complexion to create a younger look. My favorite at home peel is my TCA Multi-Acid Face Peel. It self-neutralizes so you don't have to worry about washing it off or timing it just right. Used weekly, it helps boost skin cell turnover—skin is left plump and hydrated with decreased dark spots and wrinkles.
Safe Microneedling
Estheticians and skincare pros have been using microneedling for years to increase product absorption and encourage the skin to produce epidermal growth factors. But until recently, it just wasn't safe for you to DIY at home. Luckily, times have changed. At-home dermarollers like my Collagen-Boosting Microroller contain shorter needles than the in-office versions, making it virtually impossible to do serious harm to your skin. However, used regularly they can treat hyperpigmentation, fine lines, and scarring all while helping your skincare absorb deeply!
At-Home Tech
From light masks to at-home laser hair removal, the number beauty devices on the market has exploded in the last few years. After trying a number of new at-home technologies, my favorite is still this high frequency device. It uses a small electrical current to zap pimples—killing acne-causing bacteria and reducing inflammation. It helps blemishes heal faster, making it the perfect tool for when you feel a major breakout coming on.