Anti-Aging Tips For Pigmented Skin
Written by Kerry Benjamin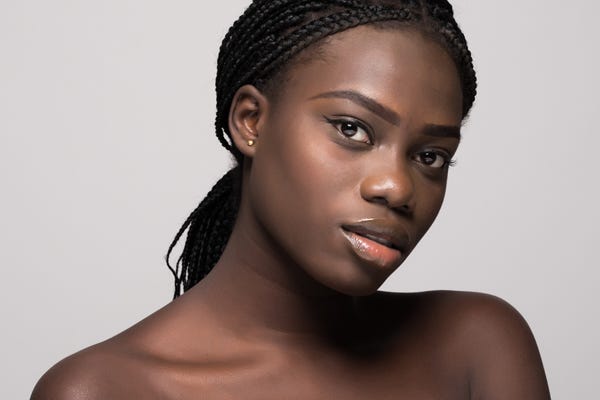 If you have a naturally darker complexion, knowing how to anti-age your skin can be a bit tricky. While the higher concentration of melanin in your skin comes with perks like slowing the appearance of fine lines, your skin is more prone to hyperpigmentation and uneven tone. Laser treatments and some exfoliating products, while effective for lighter skin, can make matters worse in highly pigmented skin by triggering excess melanin production. Here's what you can do to safely anti-age your skin and get a smooth, even glow.
Exfoliate without the scrub
Regular exfoliation helps refine uneven skin tone and texture. But scrubs aren't the move— especially if you have richly pigmented skin. Abrasive products like scrubs can cause a protection response in pigmented skin that triggers even more melanin production, resulting in more dark spots instead of fewer. Peels provide a gentler alternative to harsh scrubs by evenly removing the top layer of dead skin without triggering melanin production.
Twice weekly, use a peel with exfoliating acids like our self-neutralizing TCA MULTI-ACID FACE PEEL. Rich in lactic acid, this peel evens skin tone while controlling oil production. To complement your peel, use a gentle physical exfoliator like our DERMAPLANING TOOL. By removing the outermost layer of dead skin on the face, dermaplaning allows your peel to penetrate deeper into the skin to further refine and brighten the complexion.
Try Serums & Rollers Instead of Lasers
Hyperpigmentation is a common skin issue for people of color because darker skin more readily produces melanin. Laser treatments can be dangerous for pigmented skin, so it's important to try a gentler approach to break up dark spots. Using a serum with epidermal growth factors like our EGF ACTIVATING SERUM can help get rid of dark spots by speeding up cellular turnover. We recommend pairing serums with a micro-roller like our MICRONEEDLING TOOL. The tool gently micro-exfoliates the skin, stimulates cell turnover, gradually helps lift hyperpigmentation, and allows serums to really soak in.
Protect with SPF & Antioxidants
While melanin provides some natural protection against the sun, it's not nearly enough to neutralize harmful UV rays that cause premature aging and skin cancer. Use a broad-spectrum sunscreen with at least an SPF 30 rating to protect against UVA and UVB damage. Before applying SPF, use an antioxidant-rich serum like our PSC PEPTIDE SERUM for an added level of protection. Antioxidants work with your SPF to protect the skin against environmental stressors and prevent further damage from free radicals.