Decoding Beauty: Essence Vs. Serum
Written by Kerry Benjamin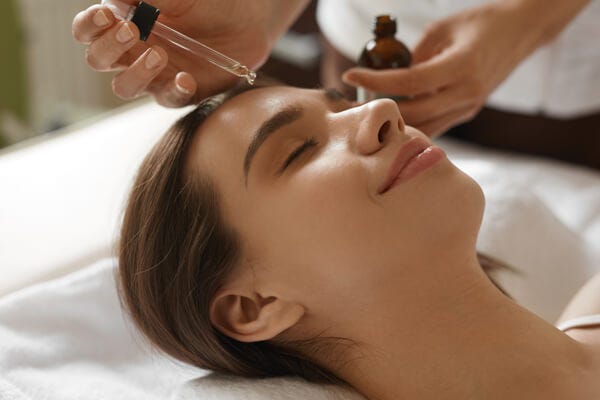 Toner, sleeping masks, ampules: it seems like the beauty industry is constantly coming up with new types of products that are supposedly essential to your routine. But one new product on the market has been garnering more attention than the others: essences. Ever since this K-Beauty skincare trend found its way from Korea to American shelves, my clients have started to ask, Just what is an essence and how is it different from the serums I'm already using? To explore the merits of each, I thought we'd break down both categories so you can decide for yourself which you really need.
Essence
What it is: A lightweight liquid popular in Korean skincare that you press into the skin after cleansing.
What it feels like: Essences have a thin, almost water-like consistency that saturates the face with moisture
How you apply it: While some essences come in spray bottles that you can apply directly to your skin, many require you to dispense a small amount into your palms and then pat the liquid into your face, starting at your chin and moving upward.Your face will likely feel very wet after application, so give your skin a few minutes to absorb the essential goodness before applying other products like serums and moisturizers.
Types of ingredients: While the ingredients in essences vary, many contain fermented extracts to brighten skin and hyaluronic acid to hydrate. Most ingredients are gentle, water-soluble, and focused on softening and hydrating.
Benefits: Essences are intended to hydrate and rebalance the skin's pH after cleansing rather than deeply treat the skin with powerful ingredients. Think of a toner, but without any harsh ingredients like alcohol. Plus, no cotton pad necessary!
Serum
What it is: A lightweight product enriched with powerful ingredients to treat specific skin issues like dullness, aging, and dark spots.
What it feels like: Serums are heavier than water but thinner than lotion or cream. They are often clear, and have a texture similar to a watery gel or lightweight oil.
How you apply it: Apply a small amount to skin after cleansing and toning. Follow with moisturizer.
Types of ingredients: Serums generally contain high concentrations of potent ingredients like growth factors, peptides, and vitamin C.
Benefits: Although there are serums targeted to treat every specific skin concern, all skin types can benefit from a serum that utilizes a combination of ingredients focused on boosting cell turnover to rejuvenate skin. For example, my EGF Activating Serum targets a variety of skin concerns like acne, aging, and dark spots while simultaneously speeding up collagen production to leave skin feeling plump and firm.
Many women swear by using both an essence and a serum in their daily routine, and there are definite benefits to doing so, especially if your skin is dehydrated and can use as much hydration as it can get. If you decide to use both, apply your essence after cleansing and wait for it to absorb into the skin. Then, follow with your serum.
Like to keep your routine simple? If you only have room for one treatment, I'd go with serum. Because serums generally contain repairing ingredients in addition to hydrating ones, they're more likely to make a noticeable difference in your skin.