Epidermal Growth Factors
Written by Kerry Benjamin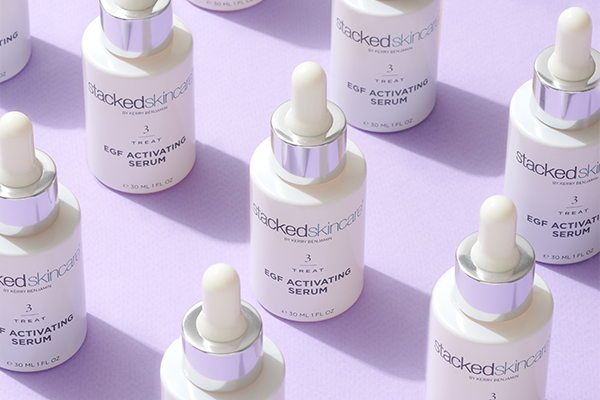 Epidermal Growth Factors or EGF's can actually regenerate our skin – even skin that has been severely damaged from burns, sun damage or the aging process.
WHAT IS IT
Epidermal Growth Factors (EGFs) are naturally occurring proteins found in the fibroblast cells of our skin that regulate cellular growth. EGF's assist in wound healing and can stimulate cells to produce collagen so they play an important role in maintaining youthful, healthy skin structure and function
How Do EGF's work?
EGF's are released in our bodies when there is an injury, and after any exfoliation or trauma to the skin. When our skin has been damaged, these proteins work by attracting cells to a wound site in order to trigger our bodies healing response. By stimulating biochemical pathways that promote skin tissue repair and regeneration, EGF's can transform the way our skin looks and feels.
WHAT SETS EGF'S APART FROM OTHER ANTI-AGERS?
EGFs have potent regenerating properties. Skincare products containing EGF's can be highly effective because when they are applied topically to the skin, tissue regeneration begins.
EGFs have been proven to:
Reduce age spots and hyperpigmentation
Reduce the appearance of fine lines and wrinkles
Improve the skin's texture, look, elasticity and smoothness
Firm and tone the skin
Reverse the harmful effects of UV rays by promoting the growth of new cells which replace cells injured by ultraviolet radiation
IDEAL FOR WHO?
EGFs are excellent for all skin types at both preventing and reversing signs of aging. These particular proteins are also highly effective for those with oily and acneic skin. When treating acne with various topicals that are intended to exfoliate the skin, including benzoyl peroxide, sulfur, salicylic acid, or retinol, EGFs work to rebuild and heal the skin quickly. EGF's will aid to quickly heal the acne lesions and help speed up cell turnover.
THE PERFECT PARTNERS
Topical EGF's are especially effective after peels, AHA's (including products containing Lactic and glycol acid), microdermabrasion and microneedling treatments because they help rebuild the skin and provide nourishment. EGF's potent regenerating properties will also boost the age-reversal effects of injectable-fillers by stimulating the cells to produce collagen.
These exfoliation treatments work in synergy with EGF's both physically and topically to stimulate Epidermal Growth Factors (EGFs), boosting collagen production, accelerating natural cell turnover and renewing cells to produce smoother, firmer, younger-looking skin.