How To Get A Younger Looking Neck: Treat & Prevent Tech Neck
Written by Kerry Benjamin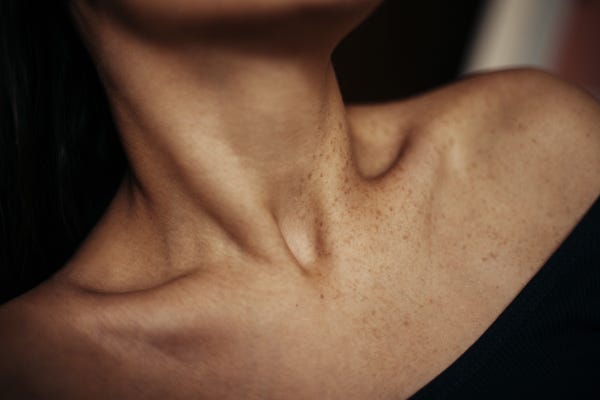 What makes this area different from the skin on the face?
1 Just like the skin on the face, the skin on the neck and décolleté is a vulnerable region that shows the usual signs of aging: fine or deep-set lines, loss of elasticity, dryness and discoloration from sun damage.
2 The skin and muscles in our necks are generally thicker and stronger since they support the jawline and head. However, the major muscle in the neck is not actually connected to the bone structure, making it more prone to loss of elasticity.
3 The female bust is formed and composed of different types of tissues: glandular, fat and connective tissue. The breast has no muscles, bands or sinews for support, except for the large pectoral muscles. This lack of additional structural support can cause the skin to lose firmness over time.
4 In both the neck and décolleté, there is very little fatty tissue and fewer oil glands, which makes both areas more prone to wrinkling and dryness. Also, people who are experiencing hormonal aging (thanks to normal processes like childbirth and menopause) may also notice a difference in the texture and tone of the skin as they get older.
What should I look for in a neck and décolleté treatment? How can I treat and prevent Tech Neck?
At the heart of any good firming neck treatment is exfoliation and hydration. When we activate cell turnover, new healthy skin cells come to the surface and replace older cells that may be showing signs of damage like dark spots, sagging, or lines. Here's how it works:
EXFOLIATE
Applying a cocktail of gentle acids to the skin can help instantly remove dry and dehydrated cells that make the skin look older. These acids slough away at dead cells and bring fresh ones to the surface, initiating the skin's natural regeneration process. As this process quickens, fine lines begin to soften. Over time, a peel can help lift away pigmented dark spots, which can make a huge difference in the overall appearance of your neck and décolleté.
STIMULATE COLLAGEN
After using a peel, we follow with the MicroNeedling Tool. Using hundreds of tiny (pain-free!) needles, this device micro-exfoliates the skin. Rolling over the skin, it kick-starts the body's healing response. As the skin heals itself, it creates the appearance of firmer, plumper skin.
Retinol is a form of vitamin A that dermatologists recommend to treat fine lines and deep wrinkles. It targets the skin on a cellular level by speeding its natural turnover rate. This increase in cellular renewal helps stimulate collagen within the skin cells.  Our next-generation form of retinol is Granactive Retinoid, a non-irritating retinoid ester the skin converts directly into retinoic acid, giving you all the benefits of retinol without the dryness and peeling so thatit can be used daily.
HYDRATE & PROTECT
Like your face, the skin on the neck and décolleté needs plenty of moisture to remain healthy. As the final step in your regimen, apply a few drops of our HA Hydrating Serum. Hyaluronic acid helps replenish and plump dehydrated skin cells while a gentle dose of lactic acid will continue to diminish the appearance of dark spots and soften fine lines.
A face oil is always applied as the last step in your regimen and acts like a protective shield that seals in the moisture added by your serum. Our Shiunko Bluse Face Oil is infused with antioxidant-rich fermented green tea oil and calming Japanese indigo oil, it also soothes irritation and redness caused by dry skin. 
Lastly, always apply SPF on your neck and décolleté and reapply every 2 hours if you are in the sun. SFP, wearing a hat, and staying in the shade are the best ways to prevent signs of aging in these often over looked areas!