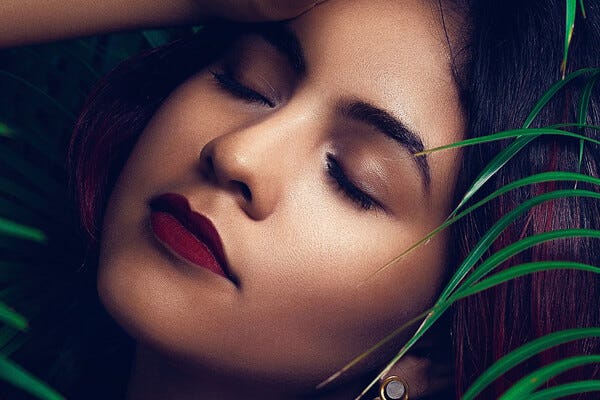 People always say that if you want to tell a woman's age, you should look at her hands and neck. And there's some truth to this: because the skin is thin in these areas and constantly exposed to the sun, they do tend to show age more quickly than other areas of the body. But another often overlooked area of the face that shows age more quickly is your mouth! Thinning, cracked lips are one of the telltales of aging skin. But if you think you have to go all Hollywood and inject your pout with fillers to keep it looking young, think again. There are some key tips you can follow to give your lips as much anti-aging care as you give the rest of your face.
Protect
If you aren't putting SPF on your lips, get on it! Like the skin on your hands and around your eyes, the skin on your lips are especially thin and especially vulnerable to sun damage. If you've noticed a few freckles popping up on and around your mouth, it's a sign that you are in fact experiencing sun damage in this area. Sun damage contributes to lip thinning and loss of collagen, so if you want to keep your lips plump, pick up a lip protectant with at least SPF 15 and reapply regularly to maintain coverage after eating and drinking.
Exfoliate
In addition to curing flaking lips, regular exfoliation also helps speed your skin cell turnover. Speedy cell turnover helps increase collagen production so that your lips stay plump and youthful looking. You can use a dry toothbrush in a pinch to buff off dry skin, but gentle acid peels are also a great option for exfoliation. Check out our Hydrating Lip Peel Exfoliant! 
Hydrate
Did you know that when your lips are dry it's a sure sign that you're dehydrated? If you regularly experience chapped lips and it seems like no amount of Chapstick is going to help, you probably need to up your water intake. Also consider applying the hydration philosophy to your lips that you apply to the rest of your face. Apply a lightweight hydrating serum to your lips first (look for one like my HA Hydrating Serum infused with hyaluronic acid) and then apply a lip protectant like Vaseline or Chapstick to seal in the moisture.
Anti-Age
What's good for your face is good for your lips! You can apply anti-aging serums to your lips. Just be careful not to get them in your mouth as most of the ingredients in anti-aging serums aren't edible! Look for ones rich in antioxidants and peptides.