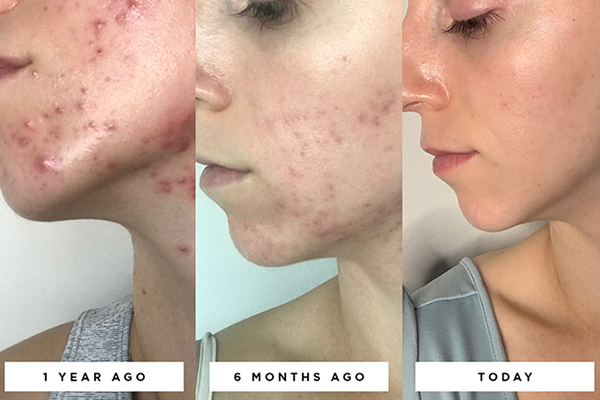 HOW TO CLARIFY & BRIGHTEN ACNE-PRONE SKIN 
Today we're tackling one of the most common skincare questions: How do I clear my acne and get rid of post-inflammatory dark spots? Whether you're dealing with occasional breakouts or in a constant war with blemishes, our brightening and clarifying regimen can help you get smoother, clearer skin.
PRODUCTS YOU'LL NEED
TCA LACTIC & GLYCOLIC FACE PEEL: This peel contains natural exfoliating acids that help kill acne-causing bacteria, speed up cell turnover, brighten, and hydrate skin. By removing dead skin cells that can clog your pores, the peel prevents future breakouts.
DUAL ENZYME MASK: This pregnancy-safe detoxifying treatment provides a gentler alternative to peels and contains fruit based enzymes and Amazonian white clay to gently dissolve dead skin, clear congested pores, and soothe existing blemishes. 
DERMAPLANING EXFOLIATION TOOL: This physical exfoliation tool helps visibly minimize dark spots by speeding up cellular turnover. The blade gently removes dead skin cell buildup (a major cause of breakouts) and fine facial hair, allowing your serums and peels to sink in more effectively.
EGF ACTIVATING SERUM: The growth factors in this serum help speed up healing time on existing pimples and also lift dark spots from old breakouts.
MICRONEEDLING SKIN REFINING TOOL:  This microexfoliation device painlessly stimulates the skin's healing response, which helps lighten dark spots and give skin a smoother texture. Pair our tool with serums to help the actives sink in more effectively. 
HIGH FREQUENCY ACNE DEVICE: This tool uses an argon gas electrode to emit a small current that generates oxygen to kill acne-causing bacteria inside blemishes and reduce inflammation. Safe for cystic and active acne, it shortens the lifespan of your blemish, prevents future breakouts, and reduces post-inflammatory hyperpigmentation.
THE REGIMEN
To create a complete skincare regimen, add a broad-spectrum SPF 30+ to this daily ritual. If you have dry skin, you can also add in our HA HYDRATING SERUM after applying the EGF ACTIVATING SERUM and before your SPF.
MORNING: 
Keep your morning routine simple, but don't forget the SPF!
STEP 1: Cleanse your skin with a mild, non-stripping cleanser like our PREBIOTIC GEL CLEANSER to help clear pore-clogging impurities and balance oil production.
STEP 2: Apply a layer of our EGF ACTIVATING SERUM.
STEP 3: Follow with SPF.
EVENING:
Apply these steps in this order. If you are not doing a step that evening, simply move on to the next.
 STEP 1: Cleanse your skin.
STEP 2: Exfoliate with our DERMAPLANING EXFOLIATION TOOL once per week. For more info on how to use our tool, watch this video. 
STEP 3: Apply 1-2 layers of our TCA LACTIC & GLYCOLIC FACE PEEL 3-5x weekly. Once per week you'll do this after dermaplaning, and 3-4 days later, you will do this without dermaplaning. When stacking it with the Dermaplaning Tool, the peel will feel a little spicier because you have just removed a layer of dead skin. The tingling is totally normal and will calm down in a minute or two. You can use our CRYO SCULPTING ROLLER to calm your skin instantly. For a gentler alternative, apply a thin layer of our DUAL ENZYME MASK once a week to gently resurface skin and clear up pore congestion. 
Step 4: Apply a layer of our EGF ACTIVATING SERUM. 
Step 5: Use the MICRONEEDLING SKIN REFINING TOOL 5-7x a week in the evening. For tips on how to use our roller, watch this video.