Period Skincare Cycle Days 6-12: Skin Tips For the Follicular Phase Cycle
Written by Kerry Benjamin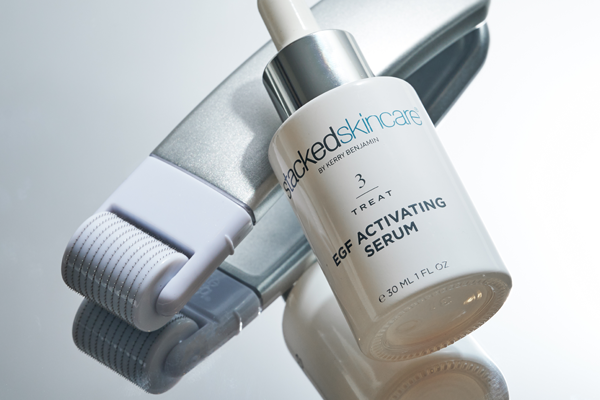 If you've ever battled breakouts right before your period, you know firsthand the effects that hormones can have on your skin. Hormones are huge players in skin health, and the natural hormonal changes that occur throughout your cycle can have a noticeable effect on the way your skin looks and feels. 
To help you navigate the skin changes you might notice every month, we're doing a deep dive into the four stages of the hormonal cycle and how you can flex your skincare routine to keep your skin healthy and clear all month long. This post covers everything you need to know about the follicular phase of your cycle (days 7-13). For a full rundown of the other hormonal phases, visit the following: Menstruation (Days 1-6), Ovulation (Days 13-16), and Luteal (Days 17-28).
The Follicular Phase (Day 7-13): What It is
Right after your period, your body transitions to the follicular phase where it begins to prep for ovulation. During this stage, follicles inside the ovaries get ready to release a new egg, and the lining inside the uterus begins to thicken.
Your Hormones During The Follicular Phase
The follicular phase is triggered by follicle-stimulating hormone (FSH) which ramps up estrogen and testosterone levels. Because estrogen and testosterone are major mood-boosters, you might feel more energetic, happier, and more productive throughout this phase of the menstrual cycle.
Follicular Phase And Your Skin
The surge in estrogen during the follicular phase is good news for your skin. Estrogen helps promote the body's natural production of hyaluronic acid, collagen, and elastin, helping the skin produce newer, stronger, healthier cells. Your skin is going to be rocking a healthy, all-natural glow, feeling more plump, bouncy, and hydrated.
How To Care For Your Skin
Your skin is at its best right now, so this phase is all about maintaining and embracing your natural glow. Since your skin is ramping up its production of newer, stronger cells, help support the process with a cell turnover boosting serum like our EGF Activating Serum, which uses vegan growth factors to help newer cells regenerate at a more consistent rate. Exfoliating will also keep your pores free from build-up, which will help your skin stay blemish-free during the later stages of the menstrual cycle. Now is the perfect time to use our Dermaplaning Tool to gently exfoliate and brighten your skin or our Microneedling Tool to visibly plump the look of fine lines.