Rosehip Oil
Written by Kerry Benjamin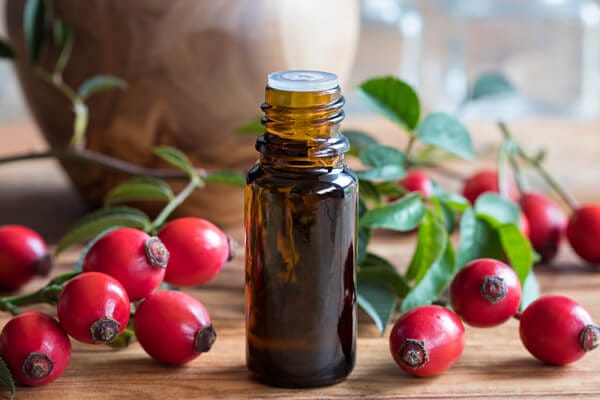 ''A long-kept skincare secret originating in Chile, the use of rosehip oil as a cure for skin ailments from acne scarring to wrinkles has been steadily gaining popularity. Here's some enlightening info about what this oil can do for your skin.''
WHAT IS IT?
Rosehip oil, an oil derived from the seeds of the rose plant, is full of skin-nourishing antioxidants, vitamins, and essential fatty acids. It contains a high amount of naturally occurring tretinoin (a type of retinoic acid), which makes it great for restoring scarred tissue and speeding cell turnover. It's also rich in vitamin A and vitamin C, two essential skin-brightening nutrients.
WHAT DOES IT DO?
Rosehip oil's essential fatty acids make it an excellent moisturizer, but the benefits don't stop there. Vitamins A and C address signs of aging, evening out skin tone and improving elasticity. It may even help reduce post-blemish scarring, minimize fine lines, and soften stretch marks thanks to the skin-repairing properties of that natural tretinoin.
WHAT IS IT USED FOR?
Because it is gentle and non-comedogenic, rosehip oil is a nourishing ingredient suitable for all skin types, especially dull and acne-prone skin. Unlike many powerful oils, rosehip oil can be applied directly onto the skin. Like all oils, it should be applied at the end of your skincare routine so that it seals in the benefits of your water-based serums and moisturizers. If you apply it before these products, water-based products won't be able to pass through the layer of oil on your skin.