Skin School Class 7: Skincare Tools & Devices 101
Written by Kerry Benjamin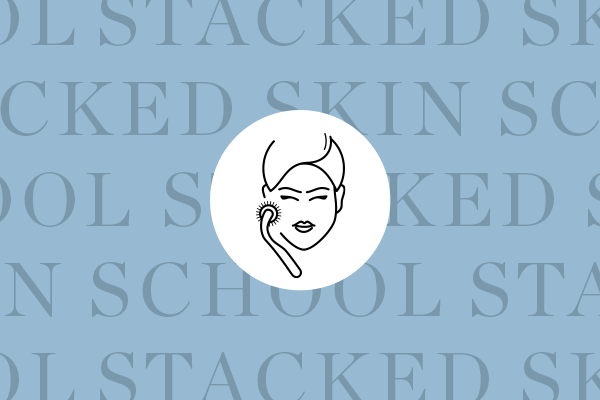 As the leading innovator of skin tools, we're obsessed with the difference that these little wonders can make in your skin. Not only can they transform your skin on their own, but tools also help your topical products work harder, faster and better–making sure your skincare splurges are really worth it! Not sure where to start? We put together this easy cheat sheet to help you understand skin tools, what they do, and how they can help you achieve your best skin ever.
Tool

What It Is

What It Does

How It Works

Best For

Time Commitment

Use It With

Microneedling Tool
A rolling device with hundreds of small, stainless steel needles
• Visibly plumps and firms the skin
• Minimizes the look of fine lines
• Refines the appearance of enlarged pores
Painlessly micro-exfoliates the skin, triggering its natural repair response to create new fresh skin cells.
Fine lines & wrinkles, Loss of collagen around the eyes, Enlarged pores & uneven texture
3-5 minutes daily
An anti-aging serum to refine fine lines.
Dermaplaning Tool
A single-edge blade that is used to physically exfoliate the face.
• Instantly softens and smooths
• Helps skincare absorb better
• Prevents breakouts
• Helps lift dark spots with continued use
Gently shaves away peach fuzz and dead skin build-up
Rough, dry skin, Hyperpigmentation, Uneven skin texture
5 minutes, once a week
An acid peel to radically brighten dark spots
High Frequency Device
An oxygenating device that zaps active acne.
• Minimizes inflammation and redness
• Helps breakouts heal faster
• Prevents new breakouts from forming
Emits a safe electrical current that generates oxygen within the skin to kill acne-causing bacteria
Inflamed acne, Hormonal breakouts, Pore congestion
An acne treatment to get clearer skin, faster
Ice Roller
A stainless steel roller that you keep in the freezer to ice the skin as needed
• Minimizes redness
• Soothes irritation
• De-puffs tired skin
• Encourages lymphatic drainage to sculpt your facial contours
Similar to icing an injury, cold therapy reduces inflammation.
Sensitive skin, Inflamed acne, Puffiness, Eczema, Psoriasis, Rosacea
2-3 minutes, daily
A calming moisturizer to instantly chill stressed skin
While most skin tools provide some instant gratification, the real magic happens when you use them consistently. After 4-8 weeks, you should start to see long-term benefits like wrinkle reduction and tone changes start to emerge. Stick with it: your skin will thank you!