The # 1 Thing We All Do That Destroys Our Skin
Written by Kerry Benjamin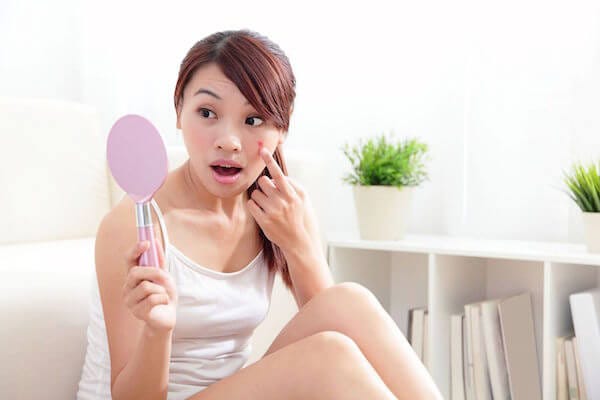 We're all guilty of it, we've all done it before, and we should all stop it today! The # 1 thing we all do that destroys our skin is picking our skin and acne. There's something about the instant gratification you feel when you finally pop that huge pimple and you think the worst part is superficially over. But you're skin's reaction to open or cystic acne wounds can be so much more damaging than just leaving that pesky thing alone.
What Happens When You Pick
When you pick at inflamed acne spots, you run the risk of damaging more of the surface of your skin and for a much longer time. Post Inflammatory Hyperpigmentation (PIH), the brown or red spots left behind from acne lesions are caused by inflammation and picking.  PIH is much more difficult to get rid of than waiting for a blemish to go down on its own.
Another damaging factor to picking is spreading bacteria even further.  When you pop a pimple, you press the dirt and bacteria from your fingers into your skin and the pimple itself.  This can lead to more acne around the area of the original pimple or even a skin infection.  Also, cystic acne, the type of acne deep below the skin, is not extractable. When attempting to extract this, you are just spreading the bacteria, creating a larger cystic acne problem.
How To Properly Extract
One of the main problems of attempting to do extractions on your own is not knowing the proper technique. The angles of pores vary in different locations on our face, understanding this is essential in successfully extracting the pore while causing the least trauma to the skin and surrounding tissue. The flat surfaces of the face, including forehead, top of the nose, chin and the jawline have follicular walls perpendicular to the surface of the skin. The sides of the nose and cheeks have slanted follicular shafts.
If you attempt to squeeze a pimple on the side of your nose or cheeks with your fingers going inward, you are causing damage to the skin and will likely not have success with an extraction.
Dermatologists and licensed estheticians are trained on proper extraction and know the right angle and pressure to use for the least amount of damage to the skin. If you must extract at home, you should take some pointers from the pros.
Proper extraction technique at home
Take two q-tips and soak them in 91% rubbing alcohol
Squeeze the two q-tips on the spot, pushing in a downward motion on the side of the nose and cheeks, or inward for the other areas on the face.  If nothing comes out, leave it alone!
If the extraction comes out, wipe the surface clean with a BHA toner and discuard the q-tip. Repeat if needed. Don't spend any more than 5-10 minutes doing extractions on your whole face.
Finally, cleanse the skin thoroughly with BHA cleanser, spot treat with BHA and a serum with growth factors to help heal the lesion, and then apply a thin light water based moisturizer.
Daily Skincare
It's important to maintain our skin's health so that we don't have to resort to desperate measures like picking our skin. Some changes you can do to help prevent and control acne can be as easy as changing your pillows sheets and cleaning you phone with alcohol every night. A good and consistent skincare routine including, cleansing your face with a BHA cleanser morning and evening, using topicals such as Vitamin A, C and E, and a broadband SPF 30 will help keep acne at bay in between professional treatments.
Skincare devices like the Clarisonic significantly increase your cleanse by removing 6 times more oil and dirt from your face than washing with your hands, and high frequency devices are a super safe and highly effective way of killing the bacteria deep below the layers of your skin.