The Best Affordable At-Home Skin Treatment
Written by Kerry Benjamin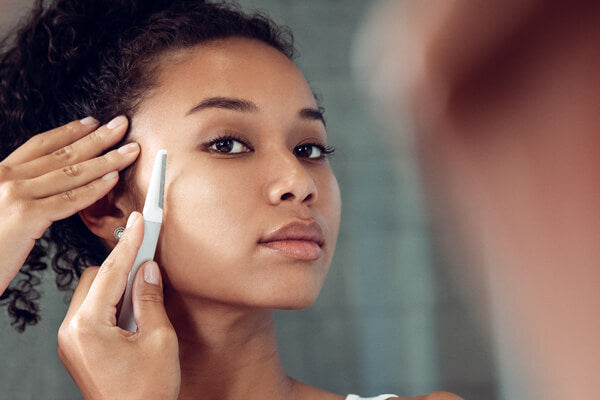 Due to COVID, millions of us have had to hit pause on our monthly facials and other in-spa services. But just because we can't see our aestheticians for peels and extractions doesn't mean we have to give up on our skincare routine altogether. If you're pinching pennies but still want spa-quality results, reach for our Dermaplaning Tool, the best affordable skin treatment for glowing skin at home.
What is Dermaplaning?
Once only available via aestheticians and dermatologists, dermaplaning is an exfoliation treatment that uses a sterile single-edge blade to safely and gently remove peach fuzz and dead skin build-up that can make your complexion appear dull and flaky.
Why It Works:
By gently removing the outermost layer of dead skin and fine hair on the face, the Dermaplaning Tool instantly reveals smoother, more luminous skin. It also helps your skincare products sink in more effectively, which willmay boost the results of the products you already use. Plus, dermaplaning works over time to gently brighten the look of hyperpigmentation, minimize the look of fine lines, and prevent breakouts and pore congestion.
Why Our Tool is Best:
Let's be real: there are lots of facial shavers on the market, from electric versions to cheap eyebrow razors. We've put these options to the test, and they just don't measure up to the results of our aesthetician-developed tool. The secret to the StackedSkincare Dermaplaning Tool design is maximum blade surface which allows for a more even and deeper exfoliation experience without any irritation. Plus, our stainless steel blade doesn't dull after a single use, which means a more consistent and reliable result. Advanced users of our tool can also sculpt their brows and target contoured areas of the face with our Precision Dermaplaning Blades, a smaller design that works with your existing Dermaplaning Tool handle to reach tricky spots like the nose, brows and upper lip. 
Breaking Down the Cost:
Dermaplaning in a spa or dermatology office could cost you upwards of $100+ per treatment every month. After purchasing our tool for $75, refill blades cost just $7.80 each. You can use each blade once weekly for four weeks before you need to replace it. That works out to just $1.95 per treatment, making dermaplaning the best affordable at-home treatment for smoother, brighter skin.