The Best Natural Deodorants You Need To Try
Written by Kerry Benjamin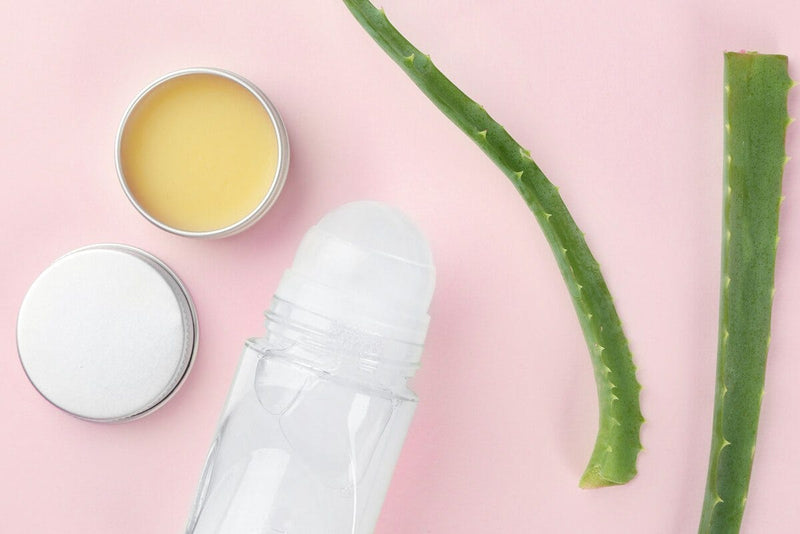 If you're still slathering on the same antiperspirant you used as a teen, it's time for a more natural change. Most deodorants on the market are a combination of antiperspirant, odor-fighting ingredients, and perfumes. Antiperspirant, while very useful in keeping your underarms dry, is not necessary to preventing body odor. Believe it or not, sweat is not what causes body odor. It's only when sweat meets odor-causing bacteria on the surface of your skin that you start to smell funky. Keep the bacteria at bay and you can sweat without any scent.
Most deodorants on the market contain antiperspirant aluminum salts—ingredients that are incredibly effective at preventing sweat, but may have adverse effects on your health. Some people have a specific sensitivity to aluminum ingredients in deodorants and may suffer from rashes, redness, and underarm discomfort after applying antiperspirant. These skin reactions can be exacerbated by shaving or other forms of hair removal that create tiny injuries in the skin.
Aluminum is also a known neurotoxin that has been shown to have potentially carcinogenic effects. A 2001 study showed that just one application of aluminum-containing antiperspirant was detectable in urine for up to 16 days. What does that mean? The aluminum is getting into your body. Does it matter? Scientists still aren't sure. But with so many wonderful aluminum-free deodorants on the market, why bother with an ingredient that might be harmful?
When making the switch to a natural deodorant, it's important to remember this—natural, aluminum-free deodorants are NOT antiperspirants. A deodorant prevents underarm odor, while an antiperspirant prevents sweating. Natural formulas contain only deodorizing ingredients, so don't expect your natural alternative to keep you sweat-free. If you've been using the industry standard deodorant/antiperspirant combo for years, you'll definitely notice a sudden rise in underarm moisture when you switch to a natural formula. But if you pick the right product, you'll still stay fresh and odor-free.
Best for Sweaty Workouts
Schmidt's Deodorant in Ylang ylang & Calendula
If you're heading to a spin class or other super sweaty workout, reach for Schmidt's paraben-free stick. This vegan, aluminum-free option contains natural plant powders like arrowroot to absorb moisture, plus ylang ylang and calendula to keep odor at bay. Unlike some natural formulas that need to be reapplied regularly, this one effectively keeps you smelling fresh for hours.
Best Lightweight Formula
Crystal Essence Mineral Roll-On in Lavender & White Tea
This crystal-infused roll-on deodorant is made with aluminum-free mineral salts that fight odor. The cooling liquid formula is lightweight and dries quickly without sticky residue or a chalky feeling.The subtle, fresh scent is unassuming—perfect for those sensitive to strong fragrance.
Best Everyday Odor Protection
Weleda Wild Rose Deodorant Spray
It's a cult-favorite for a reason! This easy-to-use spray formula neutralizes unpleasant odors and replaces them with a fresh and feminine rose scent. It also contains wild rose leaf extract—a mild astringent that helps tone the skin. Heads up: this formula is alcohol-based to speed up drying time and help kill odor-causing bacteria. If your skin is sensitive, you may want to choose an alcohol-free formula as alcohol can be drying and irritating to inflamed skin.
Best for Minimizing Moisture
Some of us just sweat more on a regular basis than others. If you tend to sweat even when you're not active, try this natural stick. It's packed with cornstarch and silica to absorb excess underarm moisture. It won't keep you totally dry, but it will keep you from soaking your shirt! Bonus:it comes in a bunch of delicious vanilla-based scents!
Best for Sensitive Skin
Whether your skin is tender from shaving or just generally sensitive, this gentle deodorant will soothe your underarms with hydrating coconut oil, avocado butter, and beeswax. It's scented with antiseptic eucalyptus oil to battle odor, soothing lavender oil, and a hint of honey.
Your body may need some time to adjust to your new deodorant. Remember to wear light, breathable fabrics like cotton to help keep underarm moisture under control while your body figures out what it's like to sweat again. Give your new product at least a few weeks to get a sense if it really works. Some beauty experts have noticed an upswing in body odor after discontinuing antiperspirant that tapers off after two weeks.
If you absolutely need to be moisture-free for a job interview or nerve-wracking first date, it's totally understandable to reach for the antiperspirant. But when a product is part of your everyday beauty arsenal, it's best to pick something as natural and chemical-free as possible. Remember to check the ingredient listing on your aluminum-free deodorant to make sure it doesn't contain other nasties like parabens and triclosan. And remember—a little sweat never hurt anyone!