Skincare in Your 60s: 3 Habits To Start
Written by Kerry Benjamin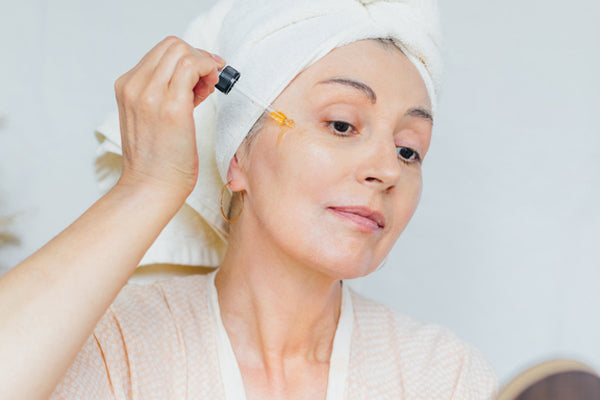 The secret to fresh skin at any age? Hydration, tone and texture. In your 60s, you might start to notice a constantly parched feeling and more sun spots than you'd like. Here are three easy ways you can make your skin look and feel younger with the power of exfoliation, hydration, and collagen-boosting growth factors.
1. Lighten Up Your Dark Spots
While you might think wrinkles and sagging skin are the real aging culprits, dark spots are the biggest factor in skin looking older than it really is. The uneven pigment is usually a delayed result of years spent sunbathing. To combat dark spots, use our Dermaplaning Exfoliation Tool once weekly and follow with our TCA Lactic & Glycolic Face Peel. Our peel uses a blend of gentle acids to gently lift hyperpigmentation and bring new, fresh cells to the surface. Using the peel after dermaplaning allows the active ingredients to sink in more effectively.
2. Embrace Dewy Skin
Another major aging factor? Dryness. As we age, our natural oil production decreases, leaving skin with a dull, flat look. Dryness also exacerbates the appearance of fine lines because dry cells begin to build up in the wrinkles, making them look worse than they really are. Our advice? Don't be afraid of looking a little dewy. First, exfoliate with our Dermaplaning Exfoliation Tool to remove a layer of dry, dead cells that prevent hydrating products from penetrating, and follow with our Hyaluronic Acid Hydrating Serum to draw moisture deep into the skin. Then, apply a moisturizer like our Microbiome Rescue Daily Moisturizer and a lightweight oil like our Shiunko Blush Facial Oil to restore the lipid barrier and prevent moisture from evaporating out of the skin.
3. Plump It Up
When we're young, we have plenty of natural collagen and elastin that makes our skin plump and bouncy. Collagen and elastin production decreases as we age, causing signs of aging like sagging, fine lines and wrinkles, and thinning skin. To maintain collagen and elastin in the long term, use a daily serum rich in plant-based growth factors like our EGF Activating Serum to trigger regeneration and healthy cell turnover. Follow with our Microneedling Skin Refining Tool, to micro-exfoliate and give skin a plumper, firmer look.