5 Tips For Fighting Dry Skin During Pregnancy
Written by Kerry Benjamin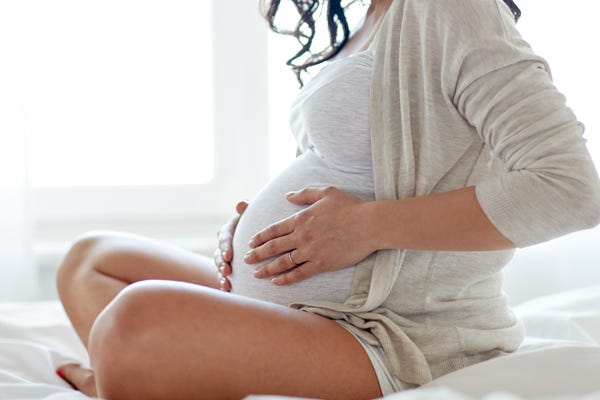 You never know how your skin is going to respond to pregnancy. It varies from woman to woman, and can even change from your first child to your second or third. When you're pregnant, you experience a huge surge in hormonal changes. For some women, these changes can be great for skin. But for many, pregnancy triggers extreme skin dryness that can be tricky to treat. Here are some tips that can help.
AVOID HARSH INGREDIENTS
Skin dryness during pregnancy is often a result of changes in your oil production. When your oil production decreases, your skin can start to rapidly lose moisture through transepidermal water loss. This decrease in moisture, paired with a reduction in oil, can leave your skin feeling tight, dry, and even a little irritated. To keep irritation from getting worse, cut out ingredients that strip your skin of its natural oils. Avoid sulfates like SLS and SLES, and swap your foaming cleanser for a gentler option. Ditch alcohol-based toners and skincare products with added fragrance, which can further irritate your skin.
EXFOLIATE WITH AHAS AND DERMAPLANING
When your skin is dry, you might feel like exfoliation is the last thing you need. But actually, dry skin is often a result of a layer of hard, dead skin cells sitting on the surface of your skin. This crusty layer can prevent your serums and creams from properly absorbing, which means that no matter how much you moisturize, your products can't do their job. While you shouldn't use salicylic acid when pregnant, you can use alpha hydroxy acids like lactic acid and glycolic acid to dissolve this surface layer of dead skin. To boost the benefits of the gentle acids, use them after dermaplaning your skin with our DERMAPLANING EXFOLIATION TOOL. This tool helps gently remove dead skin cells and fine facial hair, and will help the acids work more effectively.
USE A HYALURONIC ACID SERUM
When your skin feels tight and dry, it's usually a sign that you need to introduce more water into your epidermis. Virtually no ingredient is better at getting the job done than hyaluronic acid. Hyaluronic acid is naturally found in human cells, so your skin knows just what to do with it. It attracts water into the layers of your skin that need it most, giving you a supple, plump feeling. It can also help soften fine lines and soothe irritation as it hydrates. To get the greatest benefit, look for hyaluronic acid in a serum like our HA HYDRATING SERUM. Serums have a higher concentration of actives and can sink in more deeply, delivering the HA where you really want it. 
TRY A LIGHTWEIGHT FACE OIL
If your skin still feels dry after applying serum and face cream, press a few drops of a lightweight face oil on top. When applied as the last step in your regimen, face oil acts like a protective shield, locking in all the water that your serum and cream added. Without that layer of oil, moisture can evaporate out of your skin, leaving you just as dry and dehydrated as you were before. Look for a non-comedogenic oil like our SHIUNKO BLUSH FACIAL OIL, formulated with fermented shiunko and green tea oils that shield skin against environmental aggressors and strengthen the skin's moisture barrier to prevent water loss.
KEEP YOUR GROWING BELLY HYDRATED 
Your tendency to develop stretch marks is largely based on genetics, but keeping your skin hydrated can help support greater skin elasticity. Reach for a fast-absorbing serum like our HYDRATING BODY SERUM. Our formula contains lactic acid, which helps deliver hydrating ingredients deeper into the skin by dissolving dead surface cells. Phytoglycogen and peptides work together to help support collagen and boost elasticity so your skin has more room to grow.