Upgrade Your Diet For Glowing Skin
Written by Kerry Benjamin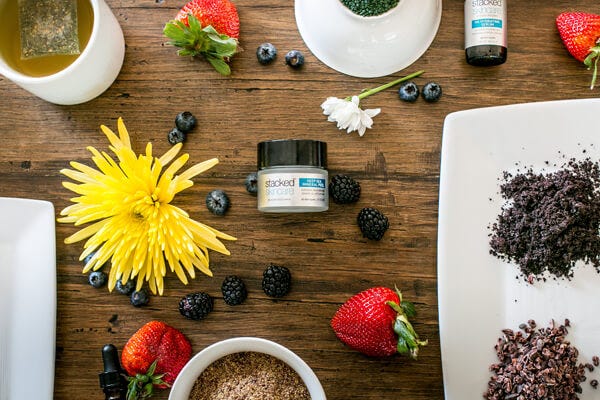 As your largest organ, your skin deserves a healthy diet just as much as the rest of your body. Consuming your daily dose of fruits and veggies is essential, but there are some other small superfood tweaks you can make to revitalize your skin from the inside out. The best part – you probably already have most of my recommendations in your kitchen to make great a daily diet for glowing skin!
Extra Virgin Olive Oil
This pantry staple is hailed as a superfood for its amazing benefits throughout the body. Extra virgin olive oil is loaded with antioxidants like vitamin E and hydroxytyrosol, which help protect against signs of aging and toxic free radicals. You'll want to drizzle some olive oil on your veggies or whip it into your potatoes because it's also rich in monounsaturated fats, which may help reinforce your skin's lipid barrier from the inside out—reducing wrinkles, dryness, and irritation. Because it's high in fat, a little olive oil goes a long way. Add just a tablespoon of this liquid gold to your daily diet for glowing skin.
Maca Powder
Maca is a radish-like adaptogenic herb that promotes healthy hormone balance. It's rich in magnesium, fatty acids, and countless other nutrients, so it boosts your internal health just as much as your skin. Mix a teaspoon of maca powder in to your morning smoothie to reduce hormonal acne while stimulating keratinocyte production, creating firm, smooth skin.
Cinnamon
A warming spice, cinnamon is often hailed as a skin superhero for its ability to boost blood flow when applied topically. It also has powerful antibacterial benefits, making it a favorite of acne sufferers. But you don't have to slather cinnamon on your skin to see the benefits. When added to the diet, cinnamon aids in healthy digestion and gut bacteria. More and more research is showing that a healthy microbiome is essential to beautiful skin, so try sprinkling a little cinnamon on your oatmeal or yogurt to keep yeast and bad bacteria at bay.
Green Tea
You probably already know that green tea is packed with antioxidants that decrease signs of aging like sun damage and wrinkles. Not only does it neutralize the effects of cancer-causing free radicals, but green tea also reduces inflammation and balances sebum production. Swapping out your morning java for a cup of green tea will give your immune system a healthy kick that leaves skin glowing. Matcha, a powdered version made from ground tea leaves, gives you the most antioxidant power.
Turmeric
Turmeric is a powerful ingredient both in its raw and powdered forms because of the active compound curcumin. Curcumin is a great addition to every diet because of its anti-inflammatory, antioxidant, antibacterial, antiseptic, antifungal, and even antiviral properties. This means it helps wounds heal quickly and reduces inflammation, while its fatty acids and phytosterols make the face less oily. Because curcumin has low bioavailability (meaning it's not easily absorbed by the body), mix turmeric with black pepper or coconut oil to maximize its health potential.
Swear by a superfood for your glowing complexion? Share in the comments!