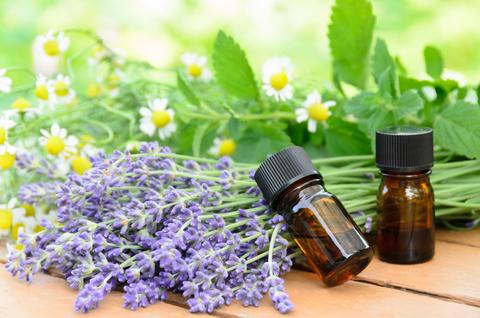 Calming Lavender. Invigorating Eucalyptus. Sensual Sandalwood. Essential oils are beloved for their powerful mood-boosting benefits and are used regularly in spa treatments to soothe muscles and calm the mind. But what about skincare? Many of my clients interested in using natural, plant-based products in their beauty routines ask me how I feel about using essential oils to treat common skin concerns. The short answer: I love essential oils! I use them regularly to create my own skin tinctures and de-stressing scents. However, just like any powerful raw ingredient, essential oils must be treated with care. These extremely potent and concentrated plant extracts can actually do more harm than good if they aren't used correctly. But when administered safely, essential oils can be used for clear skin. Check out my essential tips for adding EOs into your skincare routine.
Always Dilute
No matter what variety of essential oil you're using, you should never apply it directly to the skin. Essential oils are incredibly concentrated sources of antioxidants, polyphenols, and other naturally-occurring substances. Some of these natural nutrients like aldehydes and phenols are actually skin irritants that can cause burns, rashes, and other reactions when applied directly on the skin. Diluting the essential oil in a soothing carrier oil like jojoba, argan, or almond oil allows your skin to experience the benefits of the essential oil without the risk of injury. Essential oils should be diluted in a 3-5% solution—just one drop per 1 ml of carrier oil will do.
Choose Carefully
Do your research on essential oils and their benefits before choosing one to try. A few I like are: carrot seed for anti-aging and hyperpigmentation, tea tree for acne, rose for dryness, and neroli for oily skin. If you have sensitive skin, stay away from citrus oils like lemon and grapefruit as these oils increase sun sensitivity and can irritate tender skin. I also shy away from hot oils like clove, cinnamon, and citronella which increase dermal sensitivity and can irritate the eyes and nose.
Apply It Right
After thoroughly diluting the essential oil in a carrier oil, apply just a few drops to the palm of your hand. Gently pat and press into the skin. This step should be completed at the very end of your evening skincare routine after you have applied your serums and moisturizer.
Just as you should with all new products, be sure to conduct a patch test on the inside of your wrist before applying essential oil to your face or other large areas of your body. While essential oils are natural, there is still some risk of irritation and allergic reaction. You should also consult a doctor before using essential oils if you are pregnant or nursing as some have been known to cause serious hormonal shifts.
For best results, choose essential oils from a trusted, high quality source to minimize risk of contamination.