Skin School Class 1: Starting Fresh
Written by Kerry Benjamin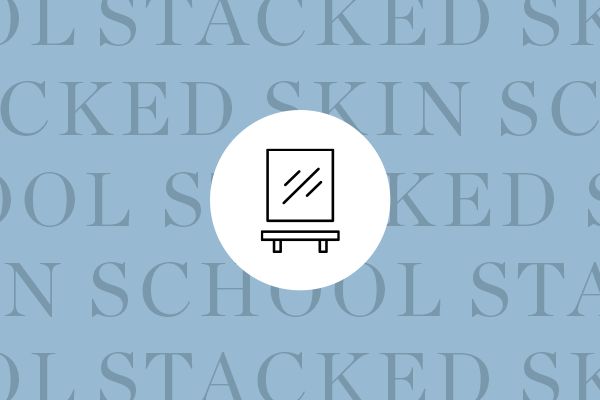 If you're anything like us, your bathroom cabinets are overflowing with the ghosts of skincare past: things you tried but didn't love, products you'd swore you'd use that have just languished on the shelf, gifts you never got around to testing. As you start the year fresh, it's time to ditch the old baggage and make room for a skin ritual you'll actually love using, every day twice a day. So to start off this 8-week Skin School journey, here's your guide on what to keep and what to toss.
TOSS:
Opened products you haven't used in over 6 months
Skincare companies aren't required to print a shelf life on their products, which can make it tricky to figure out if a product is still good. Because they contain fewer preservatives, natural and clean products have a shorter shelf life so it's best to ditch it if you opened it over 6 months ago and haven't used it up.
KEEP:
Moisturizers you didn't LOVE for your face
So you bought a moisturizer that was just OK? Maybe it balled up under makeup or made your face feel sticky? Before you toss it, try using it on your body. You probably won't notice small things like texture issues and the product won't go to waste!
TOSS:
Anything that gave you an unwanted reaction
Breakouts, redness, and scaly skin: no one has time for products that make your skin feel worse. You're not going to reach for it again, so let it go! (Psst..that includes that expensive retinol that turned you into a lizard.)
KEEP:
Skincare you've repurchased
New skincare can be tempting, but if you love a product enough to repurchase it time and time again, there's no reason to change it up!
TOSS:
Cleansers that make your face feel dry or tight
Eroding your natural moisture barrier is no joke: it can cause breakouts, excess oil, redness, irritation and extreme skin dryness. If your cleanser makes your skin feel papery, squeaky or tight, it's probably damaging your moisture barrier.
KEEP:
Skincare tools, handles, and brushes
Your skincare tools will continue to serve you well, so keep them around! Keep any tool that you love using that has replaceable components like our Dermaplaning Tool or Microneedling Tool. Same goes for brushes that are still in good shape: you can keep washing and re-using these for years.
TOSS:
Used blades, rollerheads & dingy brushes
When it comes to tools, there's no reason to hold onto old Dermaplaning Blades and Microneedling Rollerheads that you've already used. If you bought them from us, these parts are good for one month of use. If they're from another brand, check to see when you should replace them. Same goes for brushes that have seen better days: if it's losing bristles or the handle is separating from the brush, it's time to let it go.
Once you've sorted through your products and lightened your load, complete this week's worksheet to set your skin intentions for the weeks ahead. This will give you a clearer sense of your goals, the gaps in your current ritual, and what you actually already love about your skin.