Why We Upgraded Our Popular MicroNeedling Tool
Written by Kerry Benjamin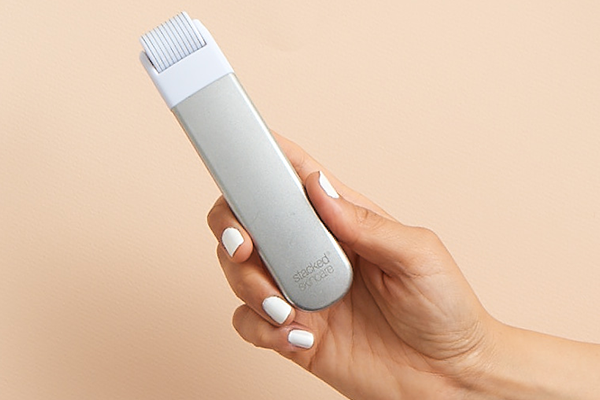 Microneedling is an essential pillar of a successful skincare routine. This easy, at-home treatment gives your skin a dewy glow, minimizes dark spots, softens fine lines, and evens out skin texture. We recently launched our MicroNeedling Tool 2.0 and are excited to share the new benefits with you! Here's what you can expect from our newest model.
INDESTRUCTIBLE DESIGN
Our team partnered with an industrial engineer to create a customized ergonomic MicroNeedling Tool featuring an indestructible, machined metal handle.  The handle is wider than the one onour original Micro-Roller, providing a more comfortable grip with greater control, which is especially important for a tool with fine needles. We also created a detachable rollerhead with surgical grade needles and an innovative, user-friendly, snap-in design. This allows you to easily replace your roller's head each month without having to throw away the entire tool. The new, sleek design and durability of the MicroNeedling Tool 2.0 ensures that this is a tool you can keep for life.
BETTER FOR THE PLANET
You don't have to sacrifice the planet to have beautiful skin. The world is currently producing around 300 billion tons of plastics each year, and we wanted to do our part in making a change. Many dermarollers on the market, including our original Micro-Roller, are made entirely of plastic and don't have detachable parts, creating excess waste when you have to throw away the entire tool and plastic container every month. We've created an environmentally sustainable tool, keeping the use of ocean-damaging plastics to a minimum. Because we still recommend that you change your roller head monthly to prevent bacterial growth and keep needles sharp, we built the new roller heads with recyclable materials to minimize waste. Unlike other micro-needling tools on the market, the MicroNeedling Tool 2.0 does not have to be plugged in and uses no energy to provide glowing results for your skin.
TRAVEL-FRIENDLY
With no batteries or plug-in required, the MicroNeedling Tool 2.0 is easy to pack and use on the go! Unlike many other rollers, the new Microneedling Tool 2.0 actually doesn't need its own bulky case because the roller head itself comes with its own snap-on cover to protect it when it's inside your toiletry bag. This makes it easy to take with you, and cuts down on bulk in your carry-on. Plus, the slim handle is virtually indestructible, which means you don't have to worry about it getting dented or bent when you're traveling.
LOWER MONTHLY COST 
We wanted the new MicroNeedling Tool 2.0 to be sustainable and less costly than our original version. While the price point of the initial purchase is higher than our original model, this is off set by the fact that you will never have to buy a replacement handle. With our refill packs, each monthly roller head replacement is only $20 versus the $30 monthly cost of our previous model.