Ask Kerry: How Long Do I Need To Wait Between Applying Products?
Written by Kerry Benjamin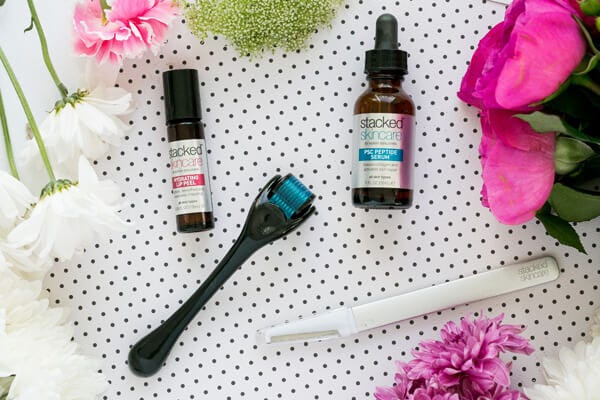 Hey Kerry,
I've been investing in quality products and sticking to a routine, but I'm kind of lost on how to use them. I've gotten so many conflicting answers about whether I need to wait a few minutes between applying each product. HELP!
This is a great question! The truth is you don't have to wait a set amount of time between applying each product. In fact, the greatest factor impacting the effectiveness of your routine is the order of application. This is because each product is specifically formulated to penetrate the skin and work in conjunction with your other products. This is particularly imperative because of the molecular size (weight) of each product, so be sure to apply from thinnest to thickest. The larger a product's molecular structure, the more difficult it will be to absorb.Smaller molecules penetrate more easily, and thus should be used before heavier ones. Applying products in the incorrect order will impact their efficacy, so start with the thinnest, most concentrated products first. Here's my routine recommendation:
Cleanser
Double-cleansing will clear skin of impurities and prepare it for the rest of your routine.Start with an oil-based cleanser and follow with a gel cleanser one to remove dirt and sebum before applying the rest of your products. Don't rely solely on an oil-based cleanser, as residual oil on the skin can prevent the absorption of other products.If you build your routine on dirty skin, your products will have a tough time breaking through the grime and could reduce the efficacy of your products.
Exfoliator
Once skin is clear of impurities, your exfoliator can more effectively slough away the dead skin cells that build up on the epidermis. I recommend exfoliating one to two times per week to soften skin and allow a fresh later of cells to develop. An exfoliated face will ensure your heavier products (serums and moisturizers) can properly penetrate the skin. You can exfoliate weekly with our Dermaplaning Tool and use our TCA Face Peel 3-5x a week for daily exfoliation. 
Toner
If you choose to use a toner, apply it immediately after your exfoliator. However, if you use a pH balanced cleanser, you probably won't need a toner.
Serums
Because they are lightweight and highly concentrated, serums absorb quickly and help moisturizers absorb more effectively. Apply your serum while skin is still slightly damp,so it can help seal in moisture and deliver active ingredients into the skin. The type of serum you use will determine when you should use it on your skin. Oil-based serums have a higher molecular weight, which will prevent lighter products from absorbing. Opt for a water-based serum or be sure to apply an oil-based formula after your moisturizer.
Moisturizers
Make sure to end your routine with a moisturizer to hydrate and prep the skin for your makeup. Because they are thicker, moisturizers protect the skin while also sealing in the products under it.Moisturizers are usually an emulsion of both oil and water; because they often contain oil, you want to apply them after any water-based products. During the day, try a moisturizer rich in antioxidants and opt for a retinol formula in the evening to stimulate cell turnover.
Facial Oils
Face oils are optional, but if you choose to use one, look for a plant-based formula that won't clog pores, like our fermented Shiunko Blush Face Oil. It is crucial to apply these near the end of your routine as oils create a barrier that will prevent other products from absorbing.
SPF
Defending against harmful UV rays is critical! Because SPF sits on top of the skin and is often heavier than your standard face lotion, it should be put on last, or it will prevent your other products from working to their full potential.
Questions about your skincare routine? Fire away in the comments and I might feature you on the next Ask Kerry!