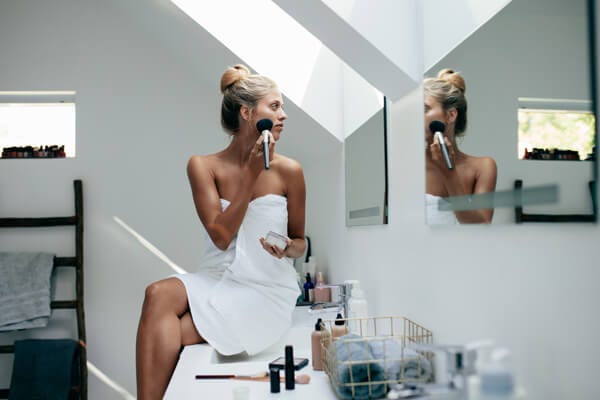 While I love playing with makeup, I don't pretend to be an expert on how to contour and rouge your way to a gorgeous look. I do know skincare though, and find that a lot of makeup "problems" are actually skin problems that only appear once you put on your makeup.Throughout the years, I've learned a few tricks that help my makeup look so much better. Read on for some makeup tips from a skincare expert!
If your makeup looks patchy or streaky...
You need to exfoliate! Your skin might feel and look totally normal to you until you put on a layer of tinted moisturizer or foundation. Suddenly, the color is patchy and streaky and your skin looks anything but even. This is because the pigments in your foundation are gathering around flaky, dry spots that weren't visible to the naked eye. To get a smooth canvas, try a self-neutralizing peel like my TCA Multi-Acid Face Peel to gently resurface skin before applying makeup.
If your foundation is suddenly super oily...
This happens to nearly everyone at some point. The same foundation you've been using for months suddenly looks really oily after just a few hours on your face. Hint: it's not the makeup. Chances are, your skin is overcompensating by producing a lot of sebum. This can be due to seasonal changes, a new anti-acne regimen, or drying indoor heating. It's a sign that your skin feels unbalanced and dried out and is trying to produce more oil to fix the problem. Instead of switching your foundation, try to rebalance skin by using a hyaluronic acid serum like my HA Hydrating Serum. This pulls moisture into your skin so that it doesn't have to produce as much oil to feel balanced. It's super lightweight and almost watery so it won't add any additional greasiness.
If your makeup looks cakey...
Try thinning it out with some serum! I find that most makeup doesn't have nearly as many skincare benefits as I want. And because I only need a little bit of coverage, I like thinning out my tinted moisturizer or foundation with a few drops of serum like my Shiunko Blush Face Oil. This boosts the benefits of the makeup and gives it a nice, silky texture.
If your mascara keeps smudging...
Some people just have naturally oily eyelids. If you're one of those people, thank your lucky stars; this eyelid oil will serve you well in the long-run by preventing lines and dehydration. But if your mascara is constantly smudging on your upper lids, try to avoid applying eye creams in the morning. Instead, tap on a waterproof cream shadow followed by a light dusting of powder eye shadow to keep that oil at bay.
If your lipstick is patchy...
Dry lips are a sure sign of dehydration so by all means, drink a glass of water! To get rid of flakes, you can use an old toothbrush to buff them a way or a gentle peel (we're developing one especially for lips!) Then, apply a small drop of HA Hydrating Serum or use our Hydrating Lip Peel to exfoliate rough skin and visibly plump your lips. Let it fully absorb before applying your lipstick. For more tips on how to care for your lips, read this post!
Have a makeup conundrum you just can't solve? Let me know in the comments and I'll see if it might be a skincare issue I can help with!