Save Your Skin From Travel
Written by Kerry Benjamin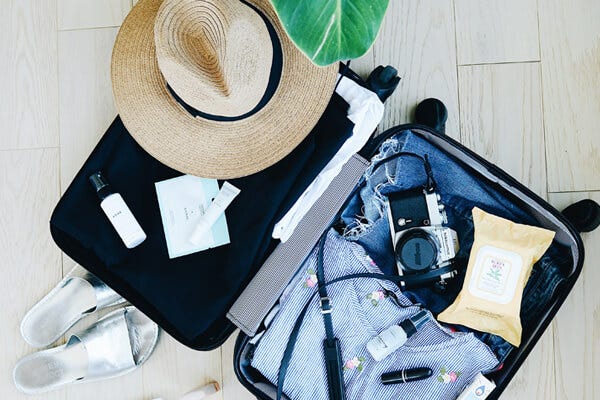 Planning a sunny getaway? You've been thinking about your beachside outfits for weeks, but what about your skincare wardrobe? Don't forget to plan ahead; between stuffy airplanes and serious vacation sun exposure, your complexion needs all the help it can get! Here are a few things to always remember when jet setting.
Prevent Breakouts
One of the worst ways to start a vacation is by finally reaching your destination only to find an enormous breakout on your face!  Airplanes are crawling with acne-causing bacteria. Because of the drying effect of recycled airplane air, skin goes into sebum overdrive in an attempt to restore its moisture balance. Sebum creates the perfect environment for bacteria to thrive, leading to painful acne. To avoid post-flight breakouts, the night before your flight exfoliate your skin with your Dermaplaning Tool and apply our TCA Multi-Acid Face Peel to gently exfoliate and dislodge pores.  The day of your flight, be sure to cleanse your skin thoroughly, apply a healing serum and a Hydrating Serum and ample SPF.  If you are taking a long flight more than 5 hours, I recommend cleansing your face mid flight and re-applying your serums and SPF.  Immediately cleanse your skin when you arrive to your destination and re-apply your serums to control oil production and breakouts.
Moisturize
Dry air, long plane flights, and sugary cocktails can leave skin thirsty and cracked. On average, the moisture hydration level in an airplane is only 10%, so your skin is going to need as much hydration as possible. This is why it is especially important to drink lots of water from take-off to landing. For long trips, it's best to remove your makeup before boarding, cleanse your face, and apply a hydrating mask. Just before landing, remove the mask and apply your daily serums, moisturizer, and SPF. For shorter trips, apply a hydrating serum and heavier moisturizer before leaving the house. When vacationing in a warm climate, your body will lose water at an accelerated rate, so try to drink at least 8 glasses of water per day and follow each cocktail with an extra glass of H2O. Apply our HA Hydrating Serum twice a day to infuse skin with additional moisture.
Lips tend to get super dry and chapped on planes, so make sure to bring our Hydrating Lip Peel in your carry-on bag. Make a habit of exfoliating prior to boarding, and then applying 100% organic raw shea butter on your lips and hands during flight. Shea butter is known as a miracle beauty balm that can be used all over the body, so it should be one of your travel essentials! Raw, unrefined shea butter contains vitamins and minerals such as vitamins A and E, as well as essential fatty acids that keep skin super hydrated and happy.
It should go without saying, but you must protect your skin from the sun. Hats, umbrellas, SPF—do it all! We recommend a sunscreen with physical protectants like zinc oxide, as these ingredients are less likely to cause skin sensitivity than their chemical counterparts. Just remember to reapply every few hours and avoid spray formulas; they simply don't provide the reliable coverage you need. If you want more advice on how to choose the right SPF for your skin, read up here!
Relax!
Even if you encounter stresses like flight delays and lost baggage, your vacation should be a time to unwind. Stress can not only lead to migraines and sleep disruption, but it can show up on your face in the form of wrinkles, under-eye puffiness, and acne. Use your vacation time to disconnect — take a break from screens and turn off your alarms.