Weekly Exfoliating Brightening and Hydrating Facial
Written by Kerry Benjamin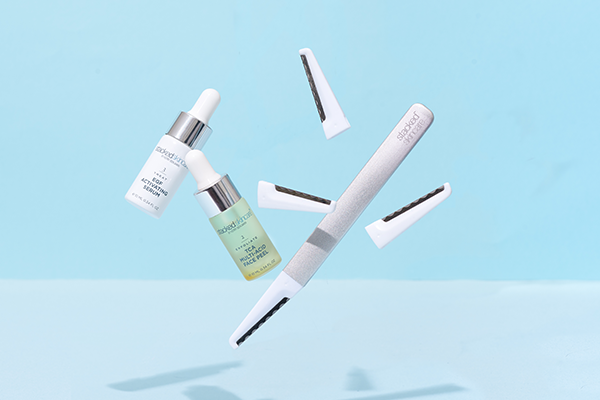 Brighten, Smooth and Hydrate your skin at home with 6 simple weekly steps.
Discover what stacking is all about with this StackedSkincare intro kit. Our Dermaplaning Tool and this trio of active formulas supports total skin health by removing pore-clogging dead skin, replenishing moisture, and supporting cellular turnover. The result is clearer, brighter, younger-looking skin—no matter your skin type.
What It Is

Dermaplaning Tool
Brighten, soften, and smooth. You name it and our at home Dermaplaning Tool does it. By gently removing dead skin and peach fuzz, this sleek sustainable device gives you professional results right at home, revealing a more radiant and glowing complexion.
 TCA Lactic and Glycolic Face Peel
Formulated with a careful balance of five acids, this gentle TCA face peel is a multi-tasking solution for acne, aging, and hyperpigmentation. Natural exfoliating acids remove dead skin build-up, soften fine lines and brighten hyperpigmentation while controlling acne and oil. This TCA Lactic & Glycolic Face Peel is safe for even sensitive complexions, the brush-on formula self neutralizes so there's no rinsing, no downtime, and no irritation. Face brush and dish sold separately.
This powerful skin-refining serum is rich in epidermal growth factors— vegan proteins that boost cell turnover and nurture the skin's healing abilities. Fortified with naturally fermented ingredients like yeast extract, EGF Activating Serum triggers regeneration, reducing the healing time of skin trauma caused by blemishes, sun damage, and natural signs of aging. Ideal for aging and acne-prone skin, this multitasking wonder also softens wrinkles and brightens age spots while giving skin a luminous, spot-free glow.
Ideal for all skin types, this non-greasy serum is rich in hyaluronic acid, one of the world's lightest and most effective hydrators. Capable of holding nearly 1,000 times its weight in water, our fast-absorbing form of hyaluronic acid delivers its moisturizing benefits deep within the skin's vital layers where it quenches dehydration, controls oil, and visibly plumps fine lines. HA Hydrating Serum also contains conditioning trehalose, brightening lactic acid, and oil-balancing niacinamide to improve skin health on multiple levels.


Weekly Facial Routine
Step 1:  Cleanse
Step 2: Dermaplane
Beginning at the top of the cheekbone near the hairline, hold your skin taut behind the blade and gently glide the dermaplaning tool towards the nose using short strokes.

Continue until you have resurfaced the entire cheek and jaw.
Repeat light strokes on the chin, above the lips, and on the forehead.
Step 3:  TCA Lactic & Glycolic Peel
Apply a dropper to face and neck.
You may feel a slight tingle for about one minute. Do not rinse. The product doesn't need to be neutralized or removed.
Step 4:  EGF Activating Serum
Apply a dropper to face and neck.
Step 5:  HA Hydrating Serum
Apply a dropper to face and neck.
Step 6:  Moisturizer