What Happens When You Get A Peel
Written by Kerry Benjamin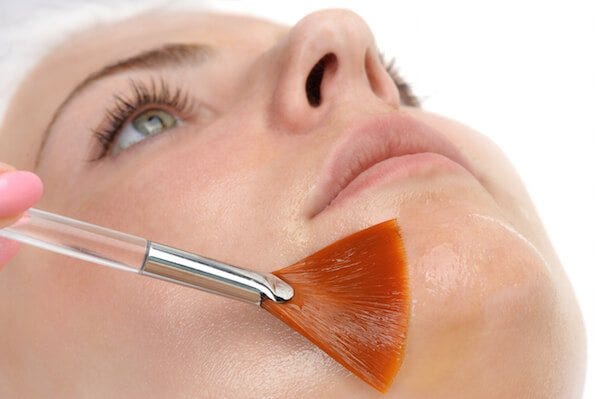 Chemical peels are one of the best ways to exfoliate, rejuvenate, and renew your skin. Unlike physical exfoliators, peels evenly remove dead skin without causing micro-abrasions. They fight signs of aging, lighten brown spots, soften the appearance of fine lines, and can even diminish scars. Unfortunately, they have a reputation that can scare even the most seasoned skincare gurus away. Chemical peels can bring to mind red, flaky, angry skin. To fight the fear factor, I've laid out exactly what you can expect from a peel. Read about how chemical peels work below.
Understanding Peels
A chemical peel is a solution that is applied to the skin—usually a blend of acids—to remove the damaged or dead layers that sit on top of the skin. Chemical peels come in many different forms these days. You can buy safe and mild versions to use at home or book an appointment for an in-office peel with an esthetician or dermatologist. Generally, the treatment you receive in-office will be somewhat stronger than what you can achieve at home.
Will My Skin Peel And Flake? 
Contrary to popular belief, many peels don't actually make your skin peel. Light and medium strength peels like what you can use yourself or experience with an esthetician exfoliate and moisturize just the surface layers, causing minimal flaking and requiring no downtime. The intensely red, scaly skin that most people associate with peels generally only occurs with deep peels, which have to be administered by a dermatologist. Deep peels can deliver truly glowing skin, but they come with extreme irritation and some recovery time. In my opinion, most people don't need a deep peel and can achieve beautiful results with a gentler solution. 
How Chemical Peels Work
Chemical peels contain a blend of acids—usually AHAs, BHAs, or TCA—which dissolve the top layers of skin. Some peels must be neutralized or washed off, while others like my TCA Multi-Acid Face Peel actually self-neutralize once they've done their job. Removing the top layers of skin encourages the skin below it to regenerate more quickly, upping collagen production and creating a plumper look. This boosted cell turnover also helps lighten the appearance of dark spots and soften fine lines, which are exacerbated by dead cell build-up.
What to Expect From A Chemical Peel
If you're trying a light peel, you can expect to experience a mild but mostly pain-free tingling sensation as the acid gently dissolves the dead skin. Medium peels can create an intense tingling or warming sensation, while deep peels may cause some discomfort. If you're using an at-home peel and experience pain, wash it off immediately with cool water. You can read more about the different types of peels available in the first part of our guide to the perfect peel. 
Skincare Tips After Your Chemical Peel
After you peel, it's very important to apply high quality serums. Post-peel, your skin is at its most absorbent state, when it will benefit the most from an infusion of anti-aging ingredients like antioxidants and vitamins. Try the HA Hydrating Serum for an intense burst of moisture following your peel application. I also cannot stress enough the importance of applying SPF regularly after a peel. Without that extra dead skin to protect it, your newly resurfaced skin is especially susceptible to sun damage and burn. Failing to apply SPF can undo all of the restorative benefits of your peel.
Ready to try a chemical peel? Schedule your free at-home consultation with us to learn more. 
Still have questions? Here's the 411 on all things related to chemical peels.